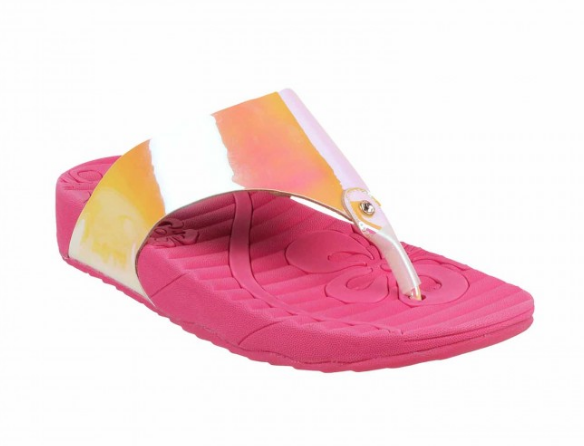 Every addition to your footwear collection is always chosen with severe thought about many different things. Just like that, the same amount of thought should also be put into slippers for girls. Having some good slippers in your collection has countless benefits; versatility is one of the main ones. As the primary purpose of slippers for girls is to provide maximum comfort, there are different types of slippers you can stock up on to get the most out of the style factor. This way, you can put your slippers to use outside of the lounging restraints and use them all day long to stay as comfortable as possible. 
Choosing from various collections online, here are five different slippers for girls that you should look for:
Flip Flops: These are a type of casual footwear that consists of a flat sole. A Y-shaped strap holds the sole to the foot, and you can quickly wear them by slipping them onto your feet. These come in various types, varying from each other as party flip flops, formal flip flops, and casual ones. These are incredibly comfortable but, when worn with the right outfit, also look a chic edge.
T-Bar Sandals: A pair of T-bar sandals are characterised by flat soles and a T-shaped strap that holds the structure together. The strap runs in between your first two toes and goes back to form a circle around your ankle. These are very easy to wear, and their simple look makes them an evergreen pair that you can wear any time of the year.
Mules: Mules used to be bedroom slippers once upon a time, but mules have become more than that with all the new fashion trends. A pair of mules have no back constraints that go around the ankle and are usually always closed-toed. This allows your feet to relax entirely and while being extremely comfortable. You can choose from a range of simple and embellished ones, as per your tastes.
Sliders: Sliders are another type of slippers for girls that have a unique look. They are very simple but tend to stand out due to the thickness of the sole. A broad, single strap that goes across the width of your footholds from the foot to the sole. Sliders are typically made of rubber, but you can also stray from the classics to more unique options like fur straps.
Two Strap Sandals: Quite similar to sliders, two-strap sandals also have a thick sole and broad strap as the basic structure. But, as the name suggests, they have two straps instead of just one, giving them a unique look that fits everywhere.
With these slippers for girls in your collection, you will always have the perfect pair of footwear to flaunt. Sophisticated and never too in-your-face, these options are the mark of a lady who knows her style. Take a look at Mochi Shoes's range of slippers for girls, including the mentioned ones and more. Go ahead and start shopping for your favourites!