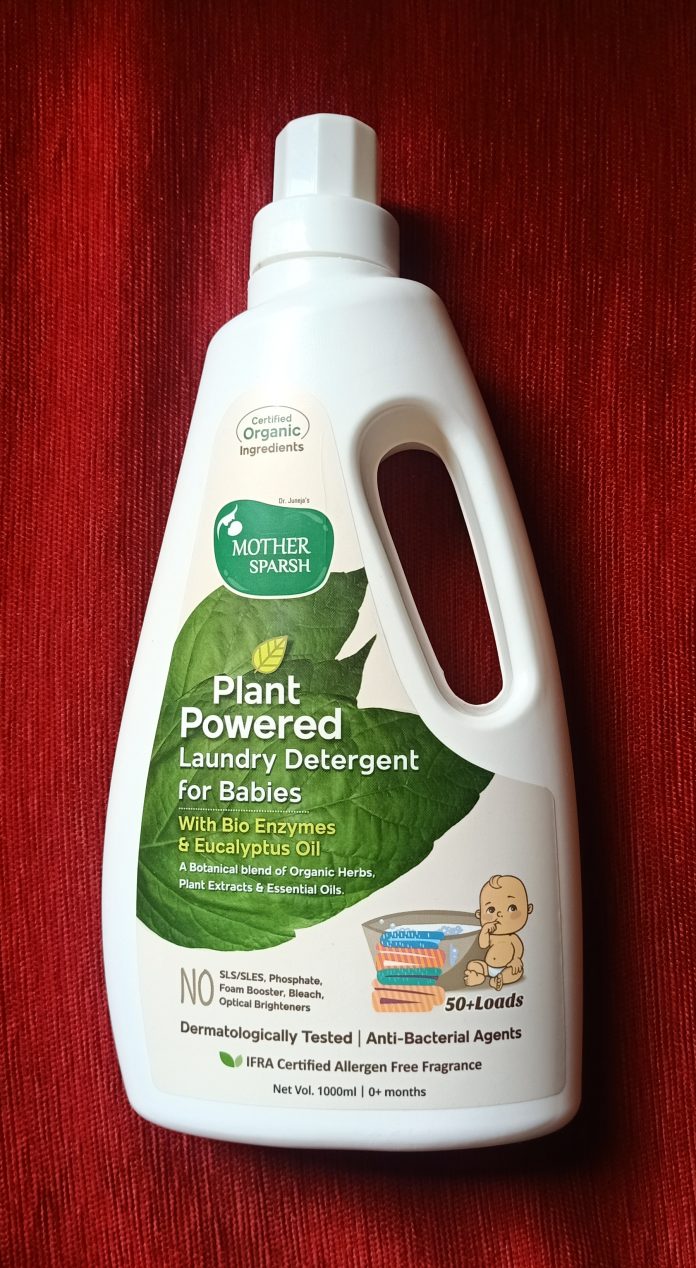 As a new parent, we know you are loving this phase. One of the best parts of parenting is dressing your baby in cute clothes. Baby clothes are truly beautiful with their impressive prints.
But with constant food stains and spit-ups, clean baby clothes are a dream! This is why you need laundry detergents that are safe and work effectively. If you don't know where to start, read on. Else, if you don't have the time to research, don't worry. Here we have listed the best 4 laundry detergents for baby clothes.
1. Mother Sparsh Plant Powered Laundry Detergent
Need a gentle yet powerful laundry detergent for your baby clothes? Then, choose Mother Sparsh Plant Powered Laundry Detergent. The brand aims to create products with natural options.
Natural
This baby laundry detergent is carefully made with herbs and essential oils. Besides, it maintains the softness and hygiene of the baby clothes without being harsh. With natural products, this detergent for baby clothes will get rid of tough stains.
Anti Bacterial Properties
Furthermore, the #plantandpure detergent has anti-bacterial properties as well. It is non-toxic and completely safe for baby clothes. The detergent is an organic blend of oils, herbs and plant extract. Choose the best. Choose safe with Mother Sparsh Plant Powered Laundry Detergent.
Ingredients
The key ingredients of this #PlantPoweredRange detergents are aloe extract, neem extract and eucalyptus oil. With aloe vera, the chances of skin irritation are extremely low. This also makes the detergent gentle to clothes. Furthermore, neem is abundant in antibacterial properties. It gets rid of bacteria from baby clothes. Finally, eucalyptus oil leaves a fragrant odour on the clothes. With these natural ingredients, you don't need to worry about skin irritation forever.
What I Like
Personally, I love that the #naturaldetergent product has a fragrant smell. It is chemical-free and made of natural products. You can't take a risk when it comes to a baby's clothes. This is why it is important to choose a detergent that is safe and gentle on my baby skin. I would recommend #mothersparsh to all new parents. Also, this is the best detergent for baby clothes that I have come across.
Features:
• Dermatologically Tested
• Antibacterial Properties
• Gentle on Clothes
• Plant-Based Ingredients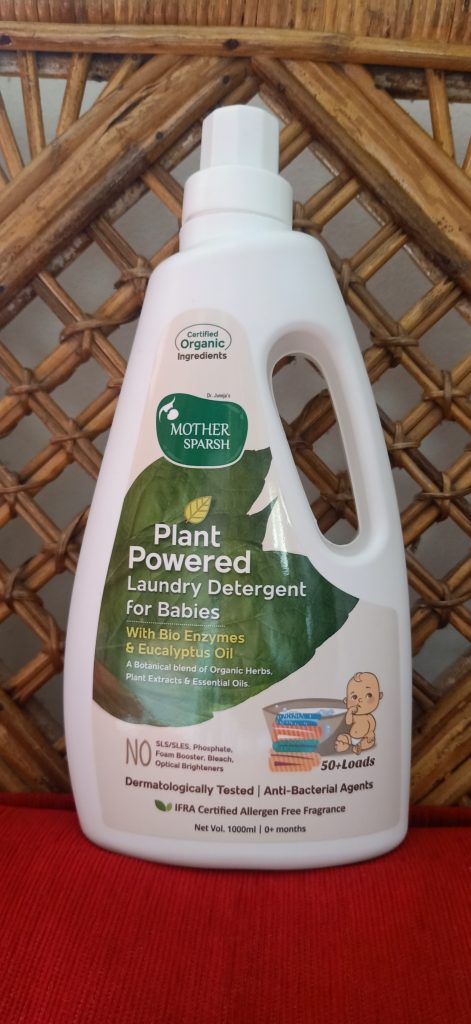 2. LuvLap Baby Laundry Liquid Detergent
Luvlap baby detergent is a non-toxic and safe choice for baby clothes. It gets rid of tough stains with ease. They are gentle on the skin and biodegradable. Made with the latest marvels of science, these products are tested thoroughly.
Ingredients
Some of the ingredients of this #babydetergent are aloe essence, citric acid, sodium chloride, cocamide dea, and more. All of these are known to work effectively on baby clothes. They eliminate odours, tough stains like a pro.
Sanitization
Luvlap is an #AllergenFree product with no added colours. Thus, when it comes to sanitation, it is the best. Sanitize your baby clothes with this #SafeForSkin detergent.
Eco-friendly
Are you looking for an eco-friendly option for your baby's clothes? Then this laundry detergent is biodegradable. Now, this is an environmental friendly choice that you can make.
What I Like
The LuvLap Liquid Detergent is effective in cleaning stains as well as pesticide residues. It is mild on the skin and prevents irritation. Besides, the Advance Cationic Softening Factors maintains the fabric softness.
Features
• Biodegradable
• Fabric Softener
• Pleasant Fragrance
• Eco-Friendly
3. goodness.me Baby Laundry Detergent
Baby's skin is soft which needs a mild detergent. This is what goodness.me provides you. The brand has formulated a safe option for baby's skin. Additionally, this is a product approved by mothers as well. The brand aims to deliver organic products for your babies. This product is a 2-in-1 baby laundry solution.
Ingredients
As mentioned above, goodness.me promotes the use of organic products only. This particular product has organic lemon which is excellent to eliminate stains. Besides, aloe vera is known for its soothing abilities. It keeps the clothes soft as ever.
Laundry Solution
This super-soft 2-in-1 baby laundry solution works like magic. It works effectively in getting rid of milk stains, chocolate stains, pee or poop stains as well.
What I Like
Babies are prone to skin rashes quite often. However, with the right laundry detergent, you won't have to worry. It is made with organic ingredients like aloe and lemon. Plus, it is free from chemicals too.
Features
• 2-in-1 Laundry Solution
• Organic Ingredients
• Softness
• Ease of Use
4. Tiffy & Toffee Baby Laundry Detergent
With inbuilt genocidal properties, this makes for a good choice. Now clean your baby's clothes leaving them fragrant as ever. The Tiffy & Toffee Detergent has many properties making it safe for your baby. Kill germs, bacteria on baby's clothes with this amazing product. Additionally, it has a pleasant aroma as well. With fabric softening properties, make this product your choice.
Ease of Use
This #SafeForBaby detergent is very easy to use. You can choose to machine wash or hand wash as well. With both options, your baby's clothes will be new as ever. Make sure to dip the clothes in the detergent for a while. This will eliminate germs and bacteria from the clothes.
Natural
The baby laundry detergent is phosphate and fluorescent free. Also, the #babydetergent is nontoxic making it safe for baby use. Furthermore, it boasts of anti-fungal properties as well. So, why look ahead when you have an effective product.
What I Like
Tiffany & Toffee is a product that delivers what they promise. It does make your baby's clothes soft and gentle. Also, no more worries of rashes or skin irritation. It works well on stains. Not to forget, with this laundry detergent, you don't need a post waste treatment.
Features
• Non-Toxic
• Anti Fungal
• Anti Bacterial
• Germicidal Properties
So, here we are with this article. We hope that you liked this review of the best detergent for baby clothes. Choose the best for your baby's clothes. Which one are you going to choose for your little one? Let us know in the comments below.