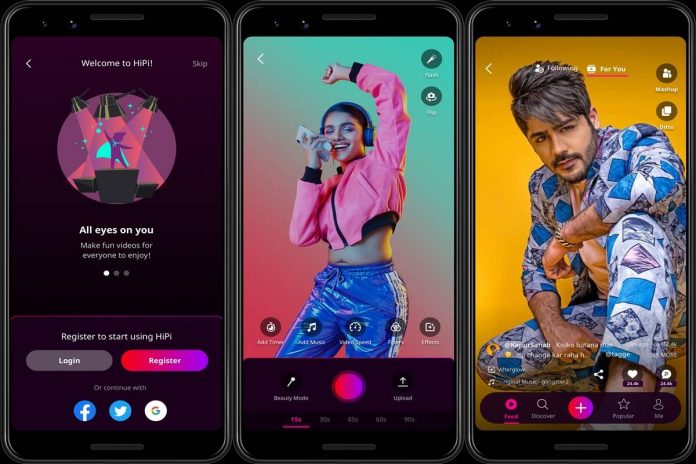 Launched by ZEE5, HiPi is a wonderful short video maker that helps you create attractive short videos of up to one and a half minutes. The app has gained immense popularity due to its easy-to-use features. Television celebrities like Shraddha Arya and Shubhangi Atre have also joined the app to connect with their fans.
Whether you are a budding artist or a professional influencer, you will enjoy creating videos in the short video maker. If you are wondering how to make great short videos on HiPi, here is a step-by-step guide for you:
1.Register on HiPi
The first step is to download the HiPi app on your mobile phone and register. If you have an account on ZEE5, you can use the same credentials to log on to the short video maker. Once you log in, you can create an attractive profile and record videos.
2.Record
The next step is to record a great video. At first, you should think about what you are good at. It can be comedy, dancing, singing, fitness, or acting. If you are a good dancer, you can create attractive short videos where you showcase your dancing talent to the world. Within a short time, you will be able to have a tribe of loyal fans.
3.Edit
The short video maker has plenty of features to make your videos look polished and glamorous. You can choose a wide range of filters, visual effects, and music to increase the glam factor of your video.
Here are the top filters which you must use in your videos:
Disco Light: This colourful filter gives off great retro vibes. They are ideal for your singing or dancing videos.
Slow-Motion: You can use this filter in videos where you are twirling and dancing. The slow-motion effect gives a charming feel to your videos.
Sparking: This dreamy filter full of sparkles will make you look like a princess and enhance the aesthetics of your video.
Time-Lapse: This filter is ideal for shooting nature videos. Use it when you are travelling to create wonderful videos.
Funny Faces: If you want to create funny videos on the short video maker, you should use this filter. It will hilariously distort your expressions.
Fire Explosion: Groove to your favourite music while using the fire explosion filter to make your video look attractive.
Rainbow: You can use this filter to give a colourful touch to your video.
Mirror: This filter provides a flipping effect that looks very cool on dancing videos.
Fast Forward: This effect gives a lively spin to your fitness videos.
Use the right filter for your video. Add the correct caption and hashtags when you are uploading it.
4.Share with your friends and family
After you have created and uploaded a video on the short video maker, you can share it on various social media platforms like Facebook, Instagram, and WhatsApp. Also do not forget to network with content creators in your niche to build a stronger online presence on HiPi. These are the 4 steps that you must remember to make wonderful videos on the short video maker, HiPi. You can also win attractive cash prizes by creating trending videos. Download the app right away to create short videos.