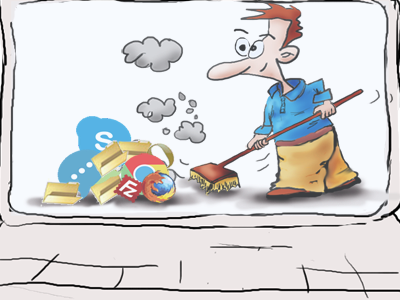 It is essential to clean your computer once in a week or at least once in a month. By cleaning we mean removing unused data and files from the computer which will generate space to store valuable information in it. Piling of data may result in slow down of computer which leads to performance issue. There are many tools and software available in the market which can clean your computer effectively. However you can clean your computer without taking the help of any third party tools which is described below:-
Clean your disk regularly
We use lot of applications and lot of redundant data is stored in our computer which consumes the disk space. This leads to slow down of the computer. Hence it is important to free the disk space regularly. Delete the files regularly which are of no use. The windows disk clean up utility identifies the unused and unwanted files and deletes them from your PC.
Uninstall unused software
This is an effective way to clean your computer and release free memory space. Software applications occupy lot of disk space. If there are any malicious and unused applications, then uninstall the same. Go to the control panel and click on 'add or remove' programs. Select the program and uninstall the same. This not only cleans the computer but also boosts the performance of your PC.
Remove unused applications
There are some applications which run in the background when we start the computer. These applications consume space without our knowledge. Hence it is important to remove these unused applications from the start up menu. Go to the start up menu and uncheck the checkbox to remove unused and unnecessary programs from the computer. However, care must be taken while removing the applications as it may result in system shut down.
Deleting cookies and browsing history
Whenever you browse anything in the internet, it is stored in the browsing history and cookies which consumes lot of space in the computer which we are unable to track. Hence it is important to select the cookies and browsing history and delete the same from the computer which frees memory space and cleans the computer.
Disk defragmentation
Usually the files are stored in the disk in a disorderly which consumes chunks of memory space here and there and nothing is organised. Disk defragmentation refers to the arranging of similar files in a particular location which consumes less space and frees the remaining space. It collates the memory space and releases it for further storage. Hence disk defragmentation is required for your computer. This is an effective way of cleaning the computer space.
To conclude, it is important to understand the methods to clean registry files from your computer effectively which not only releases free space for further storage but also improves the performance of the PC. Even without the help of any third party tool, one can clean the PC effectively by following these basic steps.