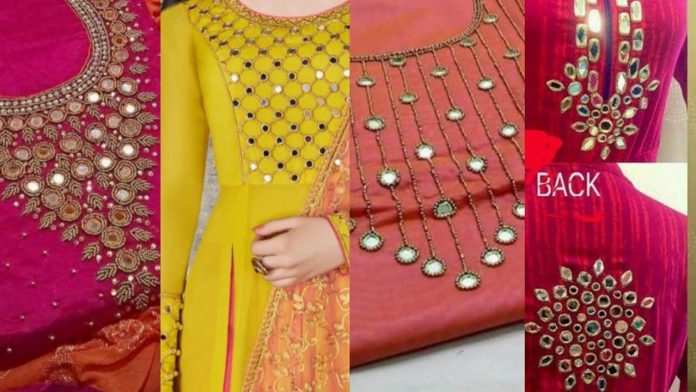 Us Indians, people of the land of festivals, like to celebrate our occasions with utmost grandiosity and joy. And correspondingly, the Independence Day commemoration is no exception. On the anniversary of India announcing independence from the brutal British rule, the entire nation comes together to pay homage to our nation's diversity, unity, and past struggles through patriotic cultural events, including dancing, singing, skits or monologues, and so on. So naturally, the same excitement reflects in every individual's independence day dresses.
Since the last couple of years, mirror work dresses have struck many women's fancies and have become everyone's favourite for independence day celebrations. As there are very few things more mesmerizing than a kurta adorned at the neckline, hem, sleeves or all over with small, shiny mirrors nestled between intricate thread work. However, we understand that turning mirror work dresses into independence day dresses can sometimes be a bit of a tricky task.
So, here are a few trendy, stylish and easy-to-put-together looks you can pick from:
For a family celebration- When celebrating with our loved ones within the confines of our homes, we like to put comfort half a notch above styling, don't we? So for a laid back, casual look, go with a slit-less, quarter thigh-length, full sleeve, mirror work kurta and to make it into a stylish dress, use a brown leather belt to accentuate your waist and get a flattering silhouette. Accessorize with a pair of dazzling hoops and strappy sandals, and you're all set to gather compliments!
For a function at work- We always want to look the best when in the presence of office colleagues, and this, whether we admit it or not, makes us very indecisive when it comes to choosing independence day dresses. This 15th August, pair an off white, straight cut, knee-length, thread and mirror work kurti with a pair of forest green, flared out palazzo pants and a simple matching cotton dupatta. Finish off the look with a couple of metallic jhumkas, an elegant bindi and a pair of tasselled leather mules and enjoy your day looking the very best in the room!
For a society programme- Independence day is one of the very few occasions that brings together all the neighbours and allows you to catch up with friends you grew up with. And for this rare day, you should not look at anything less than enthralling. You can opt for a monochromatic look, a short, collared mirror work kurta and bottoms, a pair of cotton dhoti pants. Now, to complete your festive ensemble, a few oxidized bangles and rings in one hand, a statement wristwatch on the other and a pair of small beaded earrings will do perfectly.
For a holiday outing- An outfit to hang out with your friends on holiday is quite simple, a kurta with a combination of whitework and mirror work, a pair of your favourite jeans, and to add an element of layering, a shrug or jeans jacket. And to bring it all together, a mirror work sling bag, juttis and minimal, thread earring. Classic and comfortable!
15th August has a special place in all our hearts and to show it; you must wear only the best independence day dresses. So go ahead and start stocking up on some beautiful mirror work dresses from the Libas Independence Day sale.