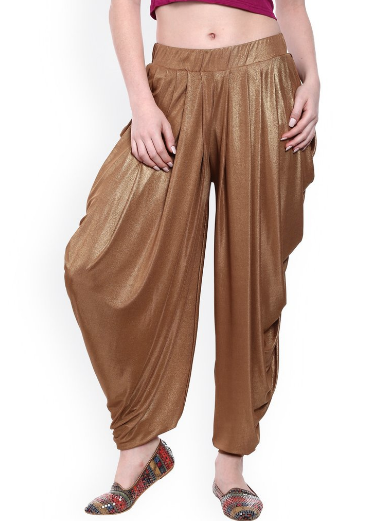 The small city of Patiala in Punjab is perhaps popular worldwide due to the trend it has set with the famous Patiala suits. From its unique style of baggy with pleats, one could make out that this was a royal outfit. However, the reason for its popularity in today's world is due to the fact that it is an extremely comfortable wear and when its significant pleats fall on the vibrant colours makes it looks gorgeous and attractive. But how would you own such a wonderful piece? Online stores in today's market assure you with the latest fashions and there you can conveniently pick one of the lots which are meant exclusively for you.

Online Shopping For Patiala Pant Gives You the Wildest Offers
On buying Patiala pants from online stores, you not only get a plethora of choices to make, but also a variation of the dress. Patiala pant comes in all shapes and sizes and you can expect a variation in the fabrications as well. You can buy the pants with a dupatta at exciting combo offers and also choose a great combination of designer tops to match with the bottom wear. Check out the latest collections of online Patiala pant. Keep your fashion statement classy and ahead of all by selecting the best piece.

Some Latest Trend Setters

Among the countless number of options that you'll find online, here is a list of some of the most popular products
1) Printed Elasticated Patiala Pant
If you are a lover of bold prints, then this item is definitely going to win your heart. Try the latest rayon fabricated blue printed Patiala pant. It has an elastic waistline which makes it quickly wearable. Wear it with a white top and be ready to become a trendsetter.

2) Solid Cotton Patiala
Nothing can beat cotton fabrics in terms of comfort. The Cotton Patiala Pant in solid colours looks voluminous and vibrant. The pants can be teamed with any top of your choice but white looks great with it. You can easily clean it under the machine wash option.

3) Printed Woven Salwar
This product adds to your style sense as it has unique printing. The soft cotton gives you a comfortable fit and it is perfect office wear when worn with a matching top.

4) Polka Printed Patiala Pant
Polka dots are the best when you talk about prints. Hence the all-new Polka printed Patiala Pants with knife pleating is a treat to the eyes. It is a great casual wear for evening hangouts or outing with friends.

5) Vented Hems Patiala Pant
Another elasticized waistband product featured with insert pockets, these Vented Hems Patialas are enough to boost your personality. Its slim fit and solid designs make it widely accepted by women of all classes.

So, with these many styles available in a variety of colours and prints, I'm pretty sure that you'll find the one which perfectly suits you and enhances your overall look.