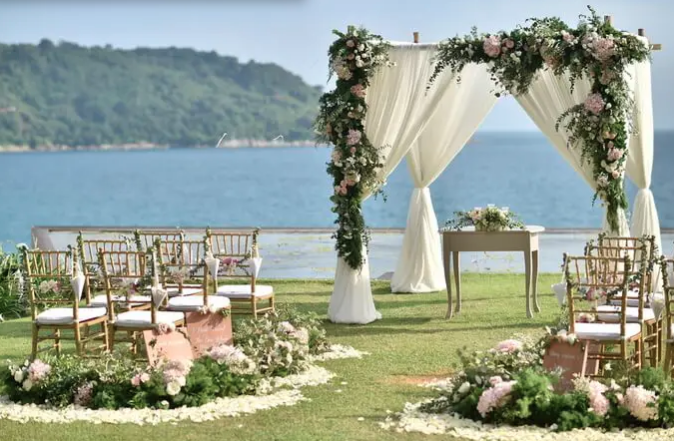 An inspiring and elegant venue can take an entire wedding ceremony to a different level. However, deciding on the right wedding location can be quite taxing. Below is a list that will take you through the most sought-after wedding venues and give you an idea of what is trending. Knowing and planning much ahead of time will aid you in financing your special day with little or no difficulties. In the case of monetary discrepancies, you may opt for a Personal loan for wedding.
Utopian Udaipur
Udaipur, also known as the city of lakes, is a perfect destination for you if you have always yearned for getting married in a regal style. This majestic town in Rajasthan has attracted a lot of Indians and even foreigners when it comes to throwing grand wedding receptions.
Characterized by exquisite palaces, the city offers a lot more than you can imagine. Some of the most favoured venues are The Leela Palace, Jagmandir Island Palace, and Chunda Palace. You can also customize the package in accordance with your needs and wants. To have a smooth execution of the event, research well about the obvious as well as hidden expenses. If the cost is not within your budget, you can apply for a wedding loan.
Serene Sri Lanka
Sri Lanka is a country that is still untouched and undiscovered. If you and your would-be spouse are hunting for a venue with unfathomable beauty, settle for this country. Nestled in the heart of the northern part of the Indian Ocean, Sri Lanka offers the right blend of nature and luxury at once.
Want to throw a plush party? You can safely go for venues like Cinnamon Lakeside at Colombo. From accommodating all the guests comfortably to serving scrumptious food items, a reputable resort takes care of the tiniest details. However, make sure to compare all the options before finalizing a deal.
Glamourous Goa
With an abundance of exotic properties located near the seashore, Goa is another option you can consider for pulling off a memorable reception. What can be more beautiful than exchanging vows while experiencing the serenity of backwaters?
Mid-winter months are the ideal time to hold a wedding in Goa. During this time, people usually limit their venues to a beach-side location or indoor halls. You can choose a venue that connects to your heart without worrying about the costs because a wedding loan can take care of all the expenses.
Dazzling Dubai
Dubai, known for its bespoke facilities and services in almost every sphere, is touted to be one of the superior wedding venues. In the past decade, a plethora of big fat Indian weddings have been conducted in this city of gold. You can follow the same to give your guests exemplary hospitality amid other scenic beauty of Dubai.
Usually, the venues are embellished with grandeur decors and spellbinding intricacies. With multiple indoor and outdoor locations, you will have the flexibility to customize every event to align with the Indian culture and rituals. To have a seamless new beginning, you can hire a professional wedding planner. 
Beautiful Bodrum
In the past couple of years, Bodrum has gained importance among couples for its astonishing beauty. Situated in the far southwest of Turkey, Bodrum is the new-founded love among Indians. This peninsula is booming because many celebrities and public figures have already tapped onto it as their wedding venues.
Adorned with stunning crystal blue water and historic palaces, Bodrum is too good to be true. If you seek a romantic affair with a tinge of lavishness, blindly choose this paradise. The place is home to several fancy hotels and resorts with dramatic backdrops. You can approach any tour company to grab the best deal.
The world is full of romantic places that can make for the best wedding venues. However, going fancy can scorch a big hole in your pocket. Hence, to avoid this, getting a loan for a wedding from Tata Capital will be a viable option. You can repay the loan amount in easy EMIs within a suitable tenure. With a simple application and approval process, you will get the loan amount within a few hours of approval. So, without any further ado, apply for a wedding loan and easily celebrate the union of two hearts.