What is a Sitemap?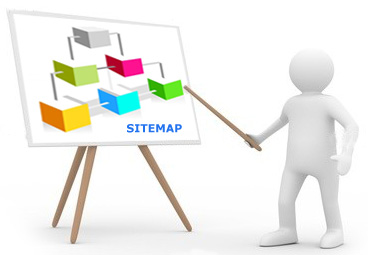 A sitemap is a collection of web pages of a website accessible to users and crawlers of Search Engine. Search engine web crawlers like Googlebot read this file to more intelligently crawl your site.
Types of Sitemap
There are mainly four types of sitemaps which can be use for a website.
XML Sitemap
HTML Sitemap
ROR Sitemap
URLlist (Text Sitemap)
1. XML Sitemap
XML Sitemap is the most commonly used type of sitemap.

This sitemap is supported by all major search engines like Google, Yahoo, Bing.

This can be submitted to major Search Engine like Google, Bing, Yahoo, etc to help their crawler

 

to crawl your website in a better way.
Example :- File name = sitemap.xml

2. HTML Sitemap
HTML Sitemap is mostly used by the webmaster to make their website more user friendly and allow human visitors to easily navigate on your site.

Topic wise or Category wise the list of website pages are arrange in HTML sitemap.

Example :- File name = sitemap.html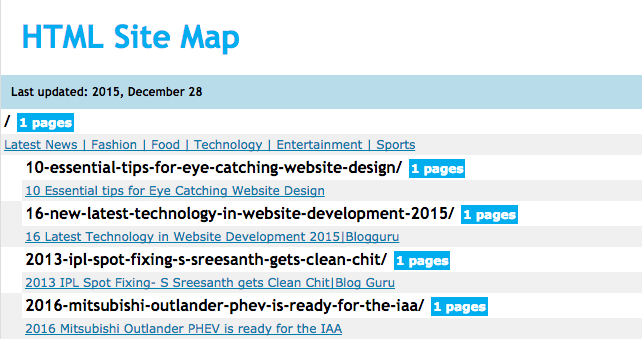 3. ROR (resource of resources) Sitemap
It is an another type of sitemap used by the webmaster.

ROR sitemap is an independant XML format for any search engine.

ROR information is stored in ROR feed called as ROR.xml. This file should be put in the root directory of your site, so that it would be easily accessible on the URL like http://www.example.com/ror.xml

ROR sitemap is used to store descriptive information about your website pages/products like price, currency, availability, kind, etc. It helps the crawler to better understand about your website.

Example :- File name = ror.xml

4. URLlist (Text) Sitemap
Earlier Webmaster created this type of text sitemap (urllist) for Yahoo Search Engine. Later though Yahoo announced support of XML sitemaps, and it's not used for search engines anymore.

To create URLList, they arrange all pages of a website in simple text format and upload this .txt file on web-server.

The file must be saved as "urllist.txt" and uploaded to the root directory.

This sitemap should be accessible on http://www.websitename.com/urllist.txt.

Example :- File name = urllist.txt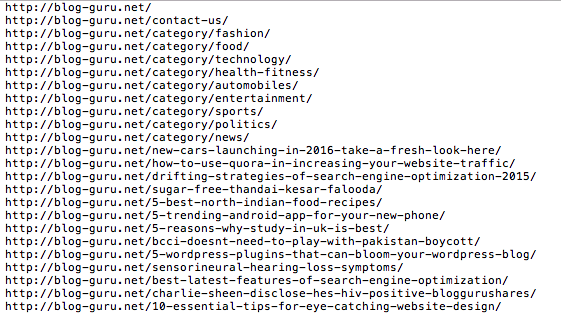 Why Sitemap is required for your website?
If your website's pages are properly linked then most of the web crawlers can usually discover your website's pages.

But if your website is really large and search engine crawlers might forget to crawl some of your new or recently updated pages so here you require sitemap.

If your website has a large no. of content pages and that are not properly linked with each other or isolated then you require sitemap to tell search engine does not overlook those pages.

If you have a new website then it is must for you to have a sitemap. Here with sitemap you can easily tell Search Engine about the your webpages. Just submit your site map to webmaster tool and be ready to crawl. With our sitemap a new website can take longer time to crawl your website.
How to generate / create sitemap?
There are many good and free online tools available online to generate / create Sitemap.
http://www.check-domains.com/sitemap/
many more…
Here my favourite is xml-sitemaps.com . I use this tool to generate sitemap for my websites. It is very simple and user-friendly. Let me tell to the steps to generate sitemap using this tool
Step 1:- Go to the website https://www.xml-sitemaps.com/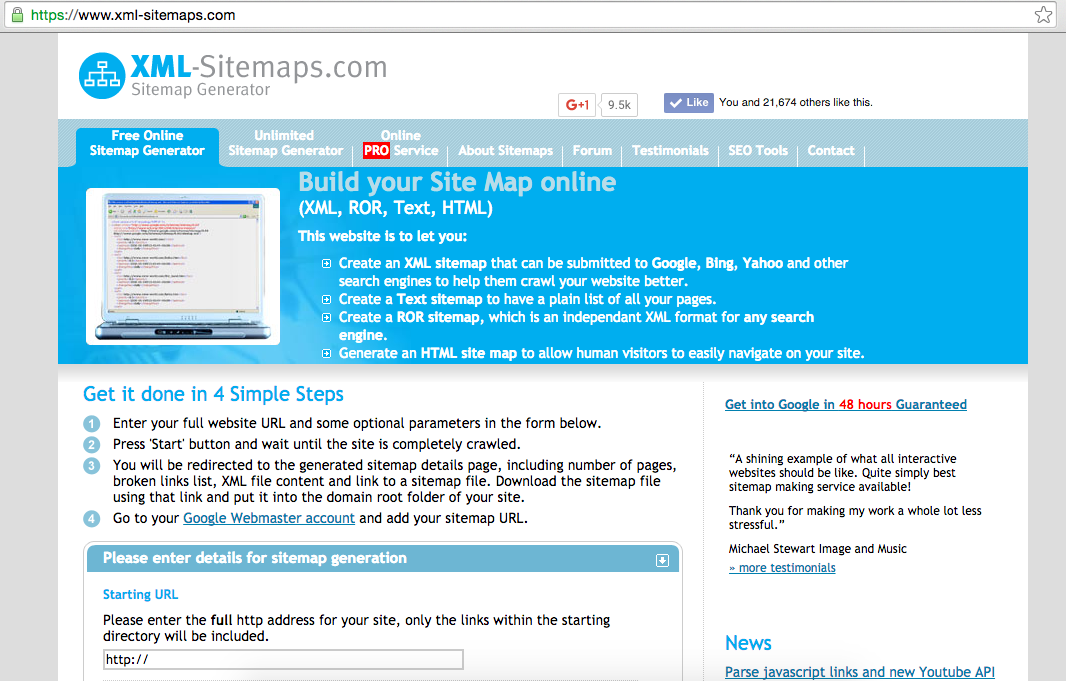 Step 2 :- Enter the details of your website to generate the sitemap. Website URL, Change Frequency, Last Modification, Priority… and click on Start.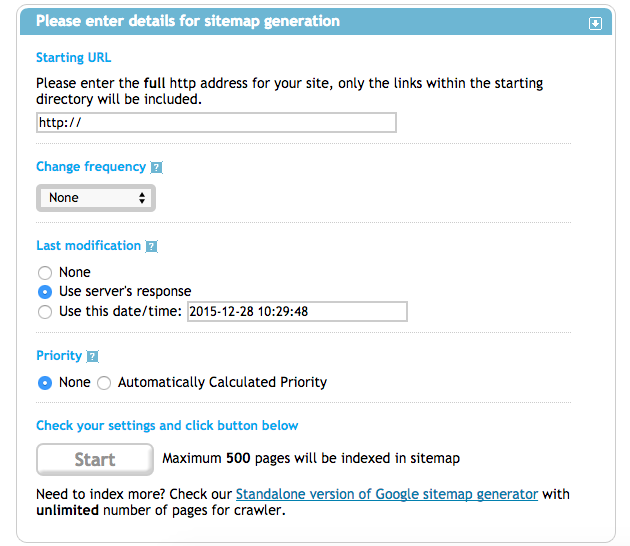 Step – 3 :- Now all the types of sitemaps are generated. Simple Click on Download icon to get the sitemap. You can enter your email address to received sitemap file in mail.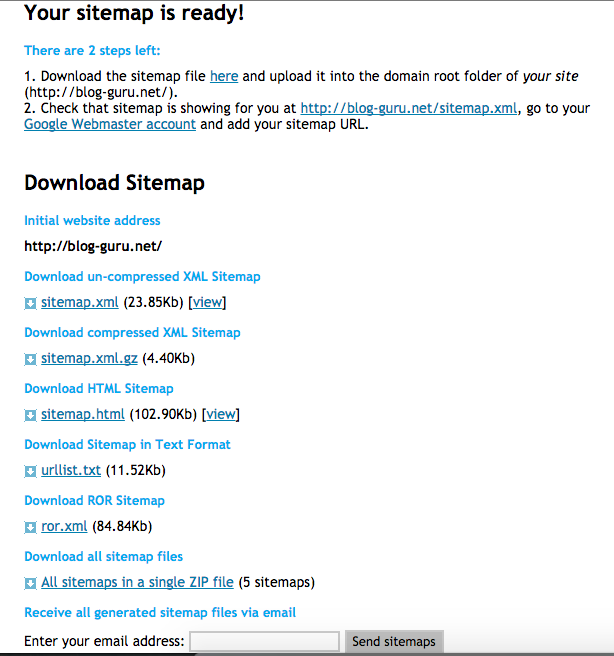 Step – 4 :-
Now we have the sitemap with us. So need to upload it to the root directory of a website. And finally submit it to the Webmaster tool of Search Engine to Crawl it.
Hope all of you enjoy reading and find something useful. Let me know your feedback.