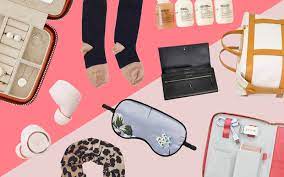 6 Travel Accessories that everyone must own
Travelling is one of the most exciting and interesting activities in the world. But it becomes successful only if you are properly geared and totally ready for the journey. It includes packing the correct pairs of attires and even taking along the essential accessories with you. Of course, we know you have the basic backpacks and toiletries always secured with you. However, there are some other essential items as well that may not seem as important but can enhance your travel experience a lot. And if you want the list of these, find them below:
Earbuds or earphones – Mobile phones are your contact companions on all journeys. You don't just require them to attend the important calls conveniently, but also to hear music when you are bored. Don't forget to get and pack the pair of best earbuds in your handbag if you desire an uninterrupted and convenient tour.
Extra charger or power bank – Again, our entire world has compiled in our mobile phones, it is necessary that it should always be working. And not just the best earbuds, but even an extra charger and fully working portable power bank should be in your bag. You shouldn't stay back with the world, and if your phone battery is dry due to any reason, the fun, connection and entertainment never stop!
Safety locks – Your suitcase consists of everything essential and precious that you are taking to the tour of bringing back from there. Though your suitcase might have an advanced locking system, still it is always safer to carry extra digital locks with you. It will help if you double-locked these to ensure that your stuff is safest throughout the journey.
Neck supporting cushion – Whether it is a road trip, a flight journey, or you are travelling by trains, your neck and body is the most affected and uncomfortable part of your body. Just to ensure that you are highly comfortable throughout the tour, you need to have the neck supporting cushion with you.
Mini travel umbrella – Global warming made the climate pretty uncertain nowadays. You can expect heavy rain or snowfall anywhere, anytime today. It's crucial to stay geared for the sudden sunlight or rains when you are travelling. Buy a mini travel umbrella to keep yourself safe from climatic factors when you're out.
Travel money and card belt – Keeping your plastic and paper money secure and with you becomes difficult when you are on a trip. (Especially if it's an adventure journey!) Keep travel money and card belt with you whenever you are on tour to ensure these are safest and you get access to them whenever required.
We all want all our trips and journeys to be convenient and exciting. And if you face any of the issues while you're travelling, it not only spoils the fun, but you also spend some extra bucks because of this. So, don't delay; get these travel accessories like the best earbuds now in the best quality so that you are already ready for your next journey.