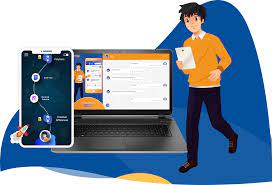 Are you worried about your child's education and future? Well, we totally understand your concern. Today, when education is available through various mediums, it becomes confusing to choose the best one for your child. Especially when searching for the online courses, you have to be very thorough about your research. After all, your child's entire future and career is dependent upon the courses you choose for him or her. So if you require a guide that makes it easier for you to select the best one, keep reading.
1.Talk to your child first –Always remember before choosing a certain genre or online courses for your child. Ask the kids about their preferences. Your child may not always be interested in what you choose for him/her. That is why it is important to understand what the kid likes the most. Accordingly, you can proceed further with the available courses online. For example, if your child wants to study maths more, there is no logic in searching for literature or language courses for him/her.
2. Search for the options online –Next, search on the Internet for the different types of online courses on the subject your child likes the most. There can be a number of options and websites and even applications appearing on your screen as soon as you search for online courses. But remember, you have to pick up the best one from this clutter. And believe us, this can be very difficult.
3. Research hard – Now, when you shortlist some of the best websites for the online courses, it is time to do your homework well. You have to research these sites very thoroughly. Read the reviews that the parents order students have left on the website. You can even take a look at their details in there about us section. Or, try calling them or mailing them in person to get a better idea about the courses they offer and the procedure they follow.
4. Ask for a suitable plan –When you think that the courses this website offers for your child are perfect, check if they have a suitable plan to adjust with your kid's schedule. Inquire if the classes are available on video and audio mediums whenever the student requires to study or will they provide the teachers help and guidance whenever the kid requires it and so on.
5. Compare the rates and finalise –Now comes the most important part that you just can't ignore when searching for online courses for your child. You have to see that the charges or the fees they ask for is appropriate and fits your budget. There are some websites that provide certain courses for free. If you can get a hand on them, then it's better.
Hopefully, you will follow the above-provided guidelines and get access to the best online course for your child. But remember to check if they have experienced teachers and good notes for the courses they provide your child online.