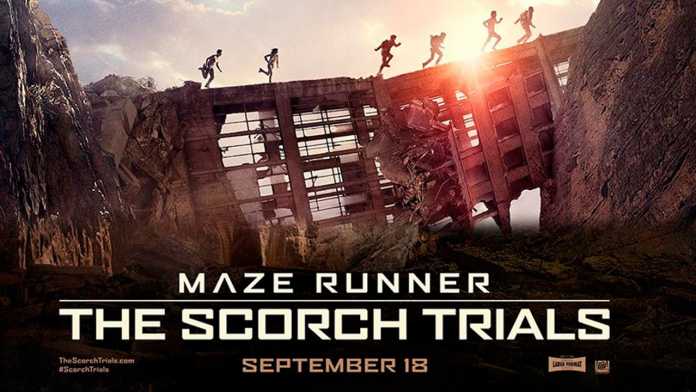 Movie : Cast and Crew
Initial release: September 18, 2015 (USA)
Director: Wes Ball
Adapted from: The Scorch Trials
Film series: Maze Runner
Story by: James Dashner
Cast: Dylan O'Brien, Ki Hong Lee, Kaya Scodelario, Thomas Brodie-Sangster, Aidan Gillen, Dexter Darden
On 18th September, Maze Runner : The Scorch Trials movie released with full boom, Yet rumors says that it is not as popular than that of Maze runner 1, but still the movie had gone through $30.3 million last week, overall it has topped to $100 million worldwide.
Directed by Wes Ball, the movie top is best in Sci-fi, and it is liken by broad range of people IMDB had given 7.5/10 rating and we think 7 is not a bad score 🙂 !
People haven't watched Maze Runner 1 than it might that you can't get the movie properly, Well it all started with a man named "Thomas" that had lost his memory and wakes up in an elevator, he is pulled up by some group of boys who also have lost there memories. They all are living in glade that is run by two boys, they maintain the order and strict rules.
Outside that glade there is a Maze, that is constructed by high concrete walls and steel plates. Boys are trying to solve that maze and want to get rid of that glade and want to go back to their home. There are 3-4 runners who ran through the maze at early morning and in evening they came back, they make maps and pictures of whatever they observed to solve out the maze.
After some hectic days one day some boys get through the maze and got to know that there is a group called "WCKD" that had made them for experiment purpose to live in a harsh condition, at that time they got to know something from some epilogue about "a solar flare" – an apocalyptic occurrence that killed off half of the world's population.
Maze runner 2 is the second part , where teenage gladeres escaped from the glade but get experimented into the new stage : Scorch , a desolate landscape filled with dangerous obstacles and with virus infected cranks.
Click here for References: