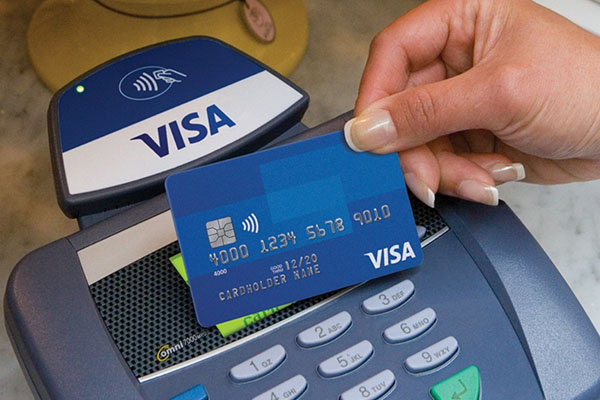 Visa payWave is a contactless payment technology which helps a cardholder to pay without any need to insert or swipe the debit or credit card into a point of sale (POS) machine.
Since 2007, the Visa payWave has been offering a faster, secure and easy way to make payments on purchases made by debit or credit cardholders. You only have to wave your card towards the POS machine, and the payment is made with ease.
The reason why contactless payments like Visa payWave are grabbing customer's attention is its safety thanks to Near Field Communication Technology (NFC). Due to this technology,a cardholder will not require to give his or her card for swiping and inserting. Thus reducing the chances of card loss and counterfeit.
The debit or credit cards with Visa payWave technology is also backed up with multi-layered security which protects the customers from frauds and unauthorized transactions. It also helps in saving the valuable time of cardholders which was otherwise wasted due to inserting or swiping and entering of the PIN number.
Currently in India, any transactions below Rs.2,000 through Visa payWave does not require the need for entering your PIN number. Any transaction above Rs.2,000 will require mandatory PIN mode authentication as per directives of Reserve Bank of India (RBI).
How does Visa payWave work?
Check if the POS machine has the contactless logo
Once the amount is entered in the POS machine, bring yourdebit or credit card at a closer range near the contactless logo.
Once you hear a beep sound, the transaction is completed, and the message will be displayed on the POS screen, which informs that the transaction has been completed.
Has mentioned above any transactions above Rs. 2,000 requires mandatory PIN authentication, as per May 14, 2015, directives of RBI.
Advantages
You only have to bring your card closer to the POS machine, and your payment is done without much effort.
It reduces the chances of card misplacement because there is no need of giving your card for swiping purposes.
You can shop under Rs.2,000 without the requirement of the PIN. So, if you have forgotten your PIN than no need to worry.
Payment is completed within seconds, thus saving your time which used to get wasted in typing PIN number and receipt generation.
Debit or credit card transaction will be secure due to the NFC technology, which reduces the chances of your card being hacked.
Retailers will now have no access to your credit card information.