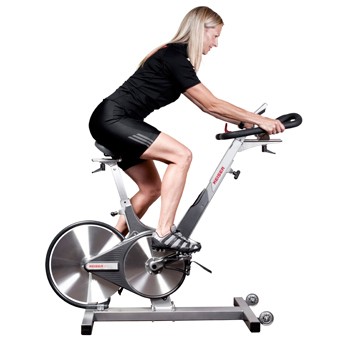 Push Yourself to the Limits in Indoor Cycling with Spin Bikes
When it comes to fitness, we want all our body toned and good looking. If you have ever hit a good and well-equipped gym around your street, you may have a look at a machine, with one flywheel that many people in there might be using. It's a Spin Bike. Now let's dig deeper to find out what does really a spin bike means and what it does?
What are Spin Bikes?
Spin Bikes basically looks and is designed like a bicycle, with a flywheel at one side. The rider sits on such spin bikes for workouts for leg muscle developments or the weight loss exercises. The main feature of these type of bikes is that their resistance can be adjusted according to your desire and hence can make the cycling challenging. These types of "Indoor Bikes" provide really beneficiary cardiovascular improvements in your body.
Parts of a Spin Bike –
Mini Computer PanelOn the handle of a spin bike, in the center, you can find a mini computer panel that shows your trip distance, the rpm (revolutions per minute) or the speed of the bike and the time that is for how long you have been pedaling. Some of the bikes even show the top speed.
Handle or the gripThese are provided for the grip and comfort of the rider. These are basically designed like a racing bicycle handle. They can be adjusted according to your comfort levels and has the panel mounted over it in the center.
FlywheelSpin Bikes are provided with wheel known as a flywheel which is usually heavy in weight to provide the rider a real time experience. The weight of these varies according to the design of the company manufacturing them. It ensures the steady and smooth rotation and has everything for your heavy loading.
Resistance ControlThis is provided to vary your workout from the easiest level to the toughest. With this function, you can vary the resistance of the wheel and the harder you set it, the harder it will be for you to ride the bike. A basic workout on a spin bike for a beginner will move from an easy or moderate level in the start to hard with each passing day by increasing resistance for the perfect results.
PedalsThese are like any other pedals on a bike. They are used to get the wheel rotating for your workout.
Advantages of a Spin Bike –
Whole Body WorkoutSpin bikes are of really great importance as they provide the rider with a full body workout and can heat up the whole body after 10-20 minutes of cycling. They provide up the workout for your legs, arms and abdominals too and can bring up a great improvement in your physique.
A new challenge dailyWith the resistance control, you will be always feeling a different level of difficulty. They provide us with a new challenge daily unlike some exercises that makes you feel easier after a certain time. But in order to achieve something, you have to face the difficulty in your way.
Great for Health and losing weightThe Spin bikes bring up the best result in your health improving various functioning in your body and do not even strain your joints that are actually affected while running. It also improves the cardiovascular health and helps you burning a lot of calories.
Verdict –
The Spin bikes are of great importance as they can help you work out your various set of muscles while cycling. Another important feature of these bikes is that you can even order them for home and then you can use them whenever you want.