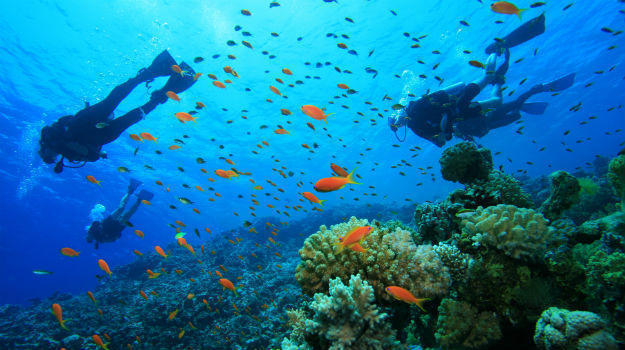 Adventure Sports and Activities


Hello there, this one is for all adventure lover out there. Do you know there are so many adventure activities available in India, like Paragliding, River Rafting, Bungee Jumping, Heli Skiing, Waterfall Rappelling, Cycle Trekking, Hot Air Ballooning, Sky Diving, Scuba Diving… Today I am going to share more information on Scuba Diving.
What is Scuba Diving ?
Scuba diving is a mode of underwater diving in which a scuba diver uses a self-contained underwater breathing apparatus (scuba) to breathe underwater.
Required equipment for Scuba Diving
Mask, Snorkel, Fins, wetsuit or drysuit, Buoyancy Compensation Device, Weight belt/integrated weights, Gauges, Regulator(Dive computer), Torch these are the basic equipments which are required for Scuba Diving.
Popular Scuba Diving Destination in India
Andaman and Nicobar islands – These islands have many diving sites The Wall (Havelock Island), Cinque Island (Port Blair), Fish Rock (Passage island) that have a wonderful variety of marine animals such as Scorpion fish, Octopus, Angler fish, Sharks and Coral reefs as well. These makes this Island best for Scuba Diving.
Lakshadweep islands – Lakshadweep Islands is blessed with crystal clear water, coral sand, coral reefs and rich marine species. Here are some dive sites of this island Aggati Island, Bangarram Island. It must definitely be on your list of places to scuba dive.
Karnataka – Coastal Karnataka is blessed with valleys, verdant forests, fresh backwaters and clear tropical waters. Netrani Island is popular dive site of Karnataka. Water animals like Whales, Turtles, Stingrays, Cobias and Stone fish can easily be spotted here.
Pondicherry – Pondicherry, is well known for its French architecture and history. But you may not know that it is also home to many diving sites like Cool Shark Reef, Temple Reef, The Hole, 4 Corners. Here you can see Orals, Lion fish, King fish, Moray eels, Eagle and Manta rays, Parrot fish, Sea snakes,and Tiger fish.
Goa – Goa is all known about the beaches, clubs, shacks and alcohol, but think again! There are a number of diving sites present in Goa like Uma Guva Reef, Shelter Cove, Locker of Davy Jones,The Jetty. You must visit this sites for sure to unearth the underwater treasure of Goa.The water bodies in Goa may not be the most ideal to dive in but they are pleasant enough. You can just visit this site http://www.mojhi.com/pages/scuba-in-goa to Book and find more details of Scuba Diving in GOA
These are the perfect destinations for scuba diving in India.