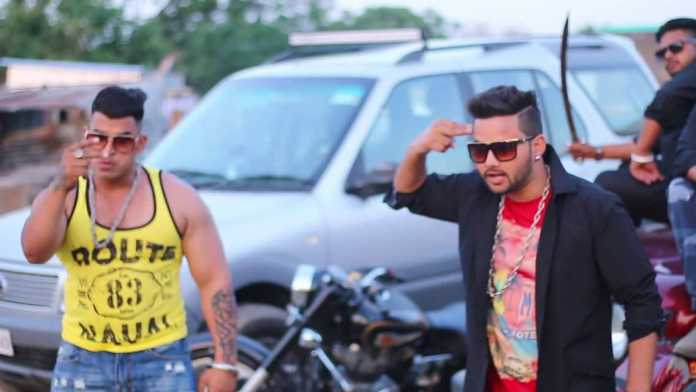 Bhojpuri cinema boomed in 1980's, enough movies were produced to make up the industry. Films like MAI and HAMAR BHAUJI continued to have a great success at the box office. However the boom and charm of the Bhojpuri cinema faded in a decade. By 1990 the industry seemed to be completely finished. The industry again gained its pace in the year 2001 with the silver jubilee hit of the movie Siyyan hamar and now with the rapid pace Bhojpuri cinema has made huge achievements in the era of cinematography not only this but Bhojpuri cinema has found its rapper Gangster Yadav.
Gangster Yadav is the first Bhojpuri rapper, the new generation considers him as the youth icon, people know him as a new emerging star of a Bhojpuri industry. With the passing of the time he has become very popular and have taken strong responsibility by serving the country and his state with the new songs and composing the music and even have shown interest in acting too.
He wanted to take Bhojpuri songs to a new level and have different skills and talent related with feet tapping rap, even he have said that he will take the Bhojpuri music to new heights and will overcome the Tollywood and Punjabi industry  by his new music songs and different raps.  He has said in many interviews that he will bring the upcoming talents and new singers in the highlights and will promote the Bhojpuri industry at the greatest.
From his first video itself, he has become very popular in the Bhojpuri industry and even proved his acting skills to the audience, he will definitely take  Bhojpuri music industry  towards the height of success. His charming  personality and  smartness  have won hearts of  the thousands of people in just lesser time and become a youth star. His rap music is new, in the Bhojpuri industry, which everyone appreciates and loves.
He hates when people abuse and use  vulgar words in the Bhojpuri songs or even when they use double meaning words. He feels dishearten by the Bhojpuri singers, he wants to make many changes in the cinema world, and  has confident to change the present scenario of  Bhojpuri industry. The rapper wants that new talented singers take part in national and international level competitions so that  the industry can take upward success within a few years.
Many boys and girls are his die hard fans and they follow him on social media and even in many promotional places. He has set a new place for the Bhojpuri cinema and he will strike the competitors by his phenomenal skill and talents even his charismatic personality will make him rise even at the Bollywood and Hollywood industry in the upcoming years, his personality is definitely going to mark a significant role in the Bhojpuri industry.