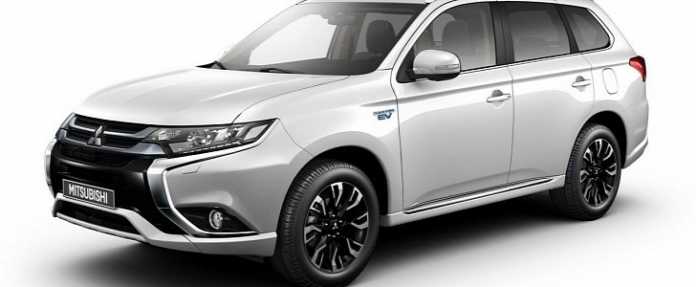 Mitsubishi has revealed the 2016 Mitsubishi Outlander PHEV at the 2015 IAA in Frankfurt. The pre-facelift model was touted as the world's first module half breed 4WD SUV.
The outside of the 2016 Mitsubishi Outlander PHEV has the same Dynamic Shield fascia seen on its petrol-fueled twin sibling. Flanking the grille LED headlights with LED DRLs housed within the assembly. The lower portion gets bumper extensions and chrome surrounds with chrome encompasses.
The new Outlander equipped with both front and rear power windows, front center armrest, third back armrest, folding rear seats, central lock, and standard immobilizer. The car is also has ABS, airbags for driver and passengers, rear door locks. The car has force mirrors, heated mirrors, and windshield defroster.
In addition to  the 2016 Outlander's claimed general improvements to NVH, steering, ride and handling, Mitsubishi claims to have increased the fuel efficiency of the plug-in hybrid system by reducing engine friction and overall framework improvement. This represents improved hybrid  fuel effectiveness of 8.0%, as indicated by the organization.
In the interim, changes to electric engine proficiency have extended the 2016 Outlander PHEV's all-electric range by 0.6km — better than nothing! — to 60.8km on the Japanese cycle (around 52.6km on the Australian one). Launch feel or acceleration from a standing start and general throttle reaction has also apparently improved via revisions to the plug-in hybrid EV and motor control system.
Click here for References:
1) http://www.autoevolution.com/news/mitsubishi-outlander-phev-facelift-revealed-at-frankfurt-gets-rally-version-live-photos-99901.html
2) http://www.worldcarfans.com/115083198308/2016-mitsubishi-outlander-phev-puts-on-euro-suit-ahead
3) http://carsintrend.com/2016-mitsubishi-outlander-phev-specs-and-price/