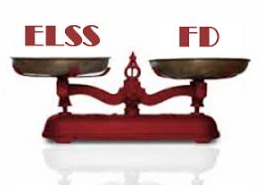 ELSS vs Fixed Deposit – Which is the Best Tax Saving Option in 2020?
fixed deposit, fixed deposit returns, fd interest rates
As the tax-season commences, you may be scrambling through different ways to make tax-savings. While there are numerous ways that you can use to avail tax benefits, bank Fixed Deposits (FD) and Equity Linked Savings Schemes (ELSS) are the most common types of investment options that you can use. All Indian citizens can invest in the scheme and deposit, while providing tax benefits under Section 80C of the Income Tax Act.
Since both the investment options come with their own set of advantages, you may be confused about which one is the better pick for you in 2020. Read on to understand the two tax saving options and factors that differentiate them from each other:
Bank Fixed Deposit: A bank fixed deposit is a very common type of investment option in India and it is so for all the right reasons. It carries an almost nil degree of risk and brings assured returns at the end of the tenure. Typically, banks offer two types of FDs. i.e Regular FDs and Tax saver FDs. A Tax saver FD comes must be invested for a lock in period of 5 years to avail the tax-saving benefits. This kind of investment lets you avail tax deductions of up to Rs. 1.5 lakhs. You must note that the interest payouts on FDs will differ and typically, senior citizens receive a higher rate of interest. Additionally, premature withdrawal and loan against FD is not permitted with a tax saving Fixed Deposit.
Equity Linked Savings Schemes (ELSS) – ELSS or Equity Linked Savings Schemes fund lets you benefit from the tax-free offer against the dividend earned on the investment. This type of investment scheme requires you to lock-in your investments for a period of 3 years. As with bank fixed deposits, the scheme lets you avail tax deductions of upto Rs. 1.5 lakhs on your investment. While they carry a high potential for returns, there is also degree of risk depending upon the economic treads within the market.
As a wise investor, it is best that that you choose a mix of investment options for your portfolio. Ideally, having both, a tax-saving fixed deposit and an ELSS scheme is a good way to use your savings for investments and also earn significant returns. However, depending on your appetite of risks, you can make a decision on the best tax saving option in 2020.