BITS, Pilani is one of the prestigious university in India that imparts engineering education and a deemed university. Along with offering the regular on-campus technical education, it also offers distance learning programmes for working professionals to help them continue education and assist the employers of such force in their Human Resource Development.
BITS Pilani distance education MBA programme of the BITS, Pilani falls under the Work Integrated Learning Programmes that offers diverse disciplines designed for the engineering professionals.
For the Management programmes, it offers
1. Consultancy Management
2. Manufacturing Management
3. Quality Management
4. MBA in Finance and
5. Hospital and Health Systems Management
The eligibility criteria requires that the applicants be employed professionals, with a B.E or M.Sc degree or an Integrated first degree of BITS and with a minimum experience of at least a year in the relevant field to the course that is chosen. Candidates with a Mentor who can offer intellectual assistance ; computer, lab and other physical facilities like email, internet are suitable.
The application is to be submitted ONLINE and admission is offered only after thorough scrutiny of the application form, relevant documents, academic achievements, work experience, mentor profile, employer profile for accuracy and entirety.
The candidates can track their application until they receive the admission offer. Once admitted, the course is conducted semester wise and each starts with a mandatory registration and payment of fees for the following semester.
The students are continuously evaluated through regular assignments, mid-semester tests and comprehensive exams and graded accordingly.
Symbiosis Centre for Distance Learning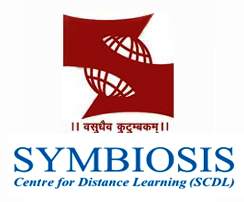 Symbiosis Centre for Distance Learning (SCDL) is an autonomous institute and one of the 1st distance learning institutes that imparts quality education in diverse fields of Management. It offers numerous Post Graduate, Diploma, Certificate and Corporate Programs that span across a range of industries and sectors.
The SCDL has initiated many innovative concepts in distance learning like interactive e-learning, computer-based assignment submission, virtual classroom facility, online faculty chat sessions, e-communication centre and others.
The 2year distance MBA or the Post Graduate Diploma in Business Administration (PGDBA) as it is called, offers a multitude of specialisations.
1. Business Administration
2. International Business
3. IT Management
4. Banking and Finance
5. Supply Chain
6. Export and Import
7. Human Resource
8. Insurance
9. Retail Management
10. Customer Relationship
Eligibility criteria that must be followed to take up the distance MBA course in SCDL are-
1. Degree holders/ graduates in any discipline from a recognised university.
2. Foreign / SAARC graduates from a recognised or accredited university.
3. Students appearing for their final year exam or Bachelors degree program before the admissions for the SCDL MBA program.
Also ,
1. Students who have qualified for the SCDL conducted entrance exam for admissions into the distance MBA.
2. Students who have a valid score in the National level, state level, or equivalent management entrance test are eligible.
To apply to SCDL, applicants need to register and login to the official online portal. Purchase, fill and print the application form and along with academic records, work experience certificates, photo id proofs; submit the forms. Once admitted, the program fees can be paid either through a demand draft or online by the student.
Evaluation of the students once admitted consist of assignments, computer based examinations, projects and submissions.
LPU Distance Education (lpude)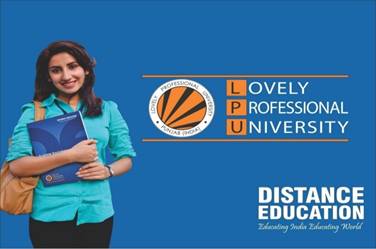 LPU is acknowledged by the UGC, is a member of Association of Indian Universities, AICTE etc. It is also tied-up with many international universities like Arkansas State University, University of Iowa, Otterbein University, Virginia International University, Murdoch University, Beijing Union University and many others.
LPU offers 2 year MBA and MBA (Hons.) program.
The regular MBA program is tailor made for aspirants to give them management expertise of the basic frameworks, analytical skills and exposure that have to be applied to the businesses. And then mandatory elective courses that one can choose from a range of specialisation areas.
The MBA (Hons.) is an exclusive program where student groups have to fulfil certain additional requirements. While the students are exposed to technicalities of the courses, they are given preference in Student Exchange and Foreign Partner Universities. This program also provides an Entrepreneurship orientation and an opportunity to obtain an online "Entrepreneurship" certificate.
Both the programs offer a range of specialisations in:
1. Finance
2. Marketing
3. Human Resources
4. International Business
5. Operations
6. IT
7. Retail Management
8. Strategy
9. Entrepreneurship
10. Business Analytics
11. E-commerce
12. Banking and Financial Services
13. Hospital and Health Care Management
To be eligible to do a MBA program from LPU, students have to be graduates in any discipline or equivalent. To apply, applicants need to buy a prospectus and fill in the application form in it, attach academic credentials, photo id proofs attested by a Gazetted Officer/ Notary. And submit either in person at the University Campus or as specified by the University along with program fee through a demand draft.
Once admitted, the program is conducted semester wise and students are continuously assessed and end-term exams conducted.