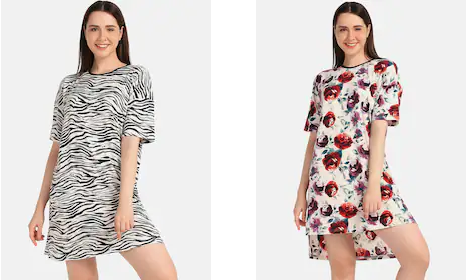 T-shirts are a basic wardrobe essential for men and women, children and adults alike. They build the foundation for your clothing collection and can be worn for casual and fancy occasions. Given the fact that solid and printed t-shirts are just fundamental, many assume that they have to stick to basics, but that is far from the truth. T-shirt collections in the market feature various types of stylish options that you can stock up on to add flair and variety to your everyday looks.
Listed below are seven types of trending t-shirts you should check out right away:
Printed T-shirts: If you haven't already, printed t-shirts are something you need to add to your wardrobe at once. They are casual yet elevated enough to look perfect with a pair of jeans while heading out to meet your friends. You can shop for various prints like floral, typography, logo, abstract, geometric, etc.
Lounge T-shirts: These t-shirts have an incredibly loose fit and are made to be worn around the house while lounging, hence the name. You can find these online and in stores in various colours and comfortable materials like cotton. These are also available in solids and prints.
Rapid Dry T-shirts: These t-shirts are an absolute must-have for women who start their day with a healthy workout. Rapid dry t-shirts are usually made from polyester and are known for their moisture-wicking and fast dry technology that makes exercising a breeze. They also have anti-static elements to ensure the material does not stick to you.
Longline T-shirts: As the name suggests, these t-shirts tend to be long, with the hem going well below the hips. The central idea of longline t-shirts is comfort, and many women prefer to use them as sleepwear as they are incredibly cosy.
Collar T-shirts: These are a bit more sophisticated than other types of t-shirts, so that you can put them on even for semi-formal gatherings. These t-shirts feature a polo collar neck and sleeves that fit around your arms comfortably. You can find these in solids as well as multicoloured options.
Oversized T-shirts: If you like to keep up with trends, it is no news to you that oversized t-shirts are all the rage right now. They can be styled in countless ways, but if not, they look just as chic as standalone pieces themselves. You can wear these with everything from jeans and leggings to tracks and shorts.
Cropped T-shirts: This is another option that is currently very trendy and versatile. These t-shirts are short in length, and their hem usually falls somewhere above your belly button. With suitable bottom wear, these t-shirts give your waist a snatched look with minimum effort. You can also find these in organic materials for maximum comfort.
You can now shop for these types of printed t-shirts and more on Myntra, India's biggest online fashion store. So check out the latest range of printed t-shirts and start shopping!