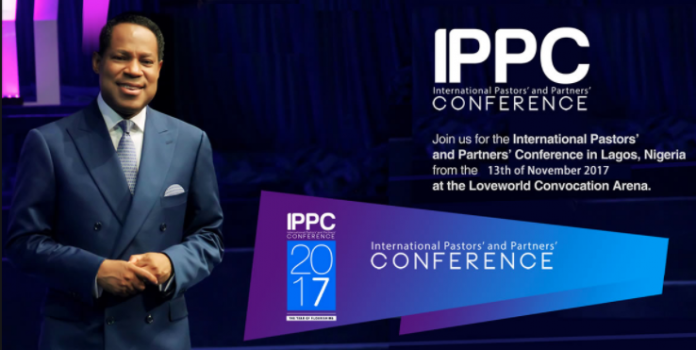 It is that time again when the Glory of the Lord will shine from November 13th – 19th, 2017 at The International Pastors' and Partners' Conference 2017 ("IPPC"). This is an annual gathering of the Senior Pastors and the Central Executive Council members. Also in attendance will be top Christian leaders in ministry, distinguished speakers who spread the gospel of Jesus Christ around the world, visitors, and partners of Pastor Chris Oyakhilome ministry – Christ Embassy International.
Pastor Chris Oyakhilome (D.Sc., D.D.) is reverently called Pastor Chris. He is a Nigerian born minister who founded Christ Embassy or the incorporated name of Believers' LoveWorld ('BLW Nation') which is headquartered in Lagos, Nigeria. Pastor Chris was called into the ministry more than 30 years ago. He is a dynamic, spirit-filled man of God who excels as a teacher of the ministry, a healer, a best-selling author, and a global television host.
Chris Oyakhilome loves his native land and Nigerians love and rever the Christian work that he fosters. He was the first person to create a 24-hour satellite network in the nation of Africa. Through his LoveWorld ministry, the satellite programs bring Nigeria into the homes of viewers around the world by teaching the message of hope, love, and joy. He promotes his Healing School which is reported to be responsible for thousands of physical, mental, and spiritual miracles in people of all ages. Minister Chris is the pastor of the largest congregations in the African continent and he hosts enormous teaching and healing crusades.
The International Pastors and Partners' Conference IPPC 2017 main events will be held at the prominent LoveWorld Convocation Arena in Lagos, Nigeria, West Africa. Other Christ Embassy locations and Regional Pastors' sites will be used to host varied events for this week-long miracle convocation milestone. As a global Christian event, the IPPC 2017 gathering will see people from over 200 nations in attendance numbering in the thousands. IPPC 2017 is also a televised event which garners number of viewers in the millions.
Minister Chris Oyakhilome and Christ Embassy is well organized with special conferences and events taking place throughout the week. The 2017 conference will host a Pastors' Conference, a Healing School workshops, evangelical programs, the International LoveWorld Exhibition, the International Media Connector's Conference, and the International Music and Arts Awards ('LIMA'). The LIMA honors and celebrates Christian music and musicians from around the globe. The International Music Concert will also feature gospel music ministers that will lead the attendees in praise and worship services each night.
There is also an International Translators Network meeting which features world-wide translators. The top feature of translators are the men and women who help to translate Oyakhilome's "Rhapsody of Realities" devotional. Rhapsody of Realities is a best-selling daily devotional that was authored by Minister Oyakhilome and is translated into over 650 languages, with millions of copies being distributed in over 200 countries, making it the most translated devotion anywhere. This award-winning Bible devotional contains illustrations on the Word, prayers, teachings, anecdotes, and many revelations.