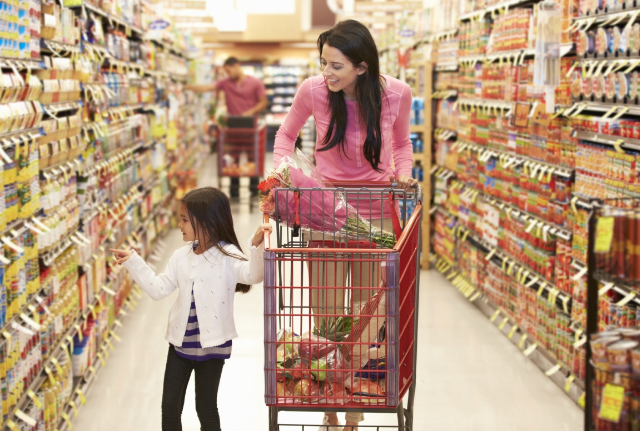 Tips To Save Money In Grocery Shopping

If you belong to a large family, you very well know the high numbers that make your monthly grocery bills. The major expenditure of every household is into grocery and if you have children with special needs, the costs are only going to rise. If you simply try to break down the cost of breakfast, lunch and dinner, you will realize that the entire expenditure is quite high. However, there are different tricks you can use to save money on food.
Coupons: The most convenient way to save money is through coupons. However, you need a lot of organizational skills in order to make the most of the same. If you know how to get your hands on the best coupons and how to use them, you will be able to save hundreds of dollars in no time. There are coupon apps which allow you to find the ones that are perfect for your needs. You also do not need to cut or organize the coupons and can use them through your phone only.
Plan well: If you plan your meal in advance, it will save you hundreds of dollars from the bill. When you begin ton plan the meals, you manage to avoid the impromptu trips to the restaurants and you can also ensure that your children are a part of the cooking process. This will save your time from shopping and eating out. You can plan an entire week's meal in advance and it will be cheaper than purchasing fast food or opting for the meal delivery plans.
Opt for generic products: It is best to switch from the branded products to generic products so as to save money on the purchase of groceries. When it comes to grocery products, you will not know the difference between the two and if the change is not well received by the members in your family, you can return to the original product.
Buy in bulk: You might be aware about the fact that buying groceries in bulk will help you save a huge amount of money. If you spend a lot on groceries, it is best to make a list of all the things you need each month and then purchase it in bulk. This will need a lot of planning and the buying should be done very carefully. You need to master the art of buying in bulk and if you receive foster care pay, you will be able to save the same through bulk purchases.
Store Ads: Every store places different products on sale every week and this allows you to afford groceries that you could not buy otherwise. This will also help you with meal planning because you get different varieties at a lower cost. When a specific product is on sale, you can plan a meal around the same. It is important to remain flexible with it comes to buying products through store ads.
Buy in season: Products are more expensive when they are purchased out of season. However, this will seem difficult if your kids love a particular product. This is why it is best to make purchases when the products are in season. When the best fruits are available in season, purchase them and expand the palates for your children so they do not crave the same foods in off seasons.
Loyalty Program: A large number of grocery stores give rewards for winning loyalty. Hence, the best is to pick a few stores closer to you and understand their customer reward systems. Once you understand the same in depth, you will be able to build purchasing habits in the store so as to gain discounted products through the same.
There is a constant rise in the cost of living and it is important that you use your money wisely. If you are a foster carer, you will have to keep the expenses at a minimal by keeping the number of children in mind. You might have to make additional expenses like clothing, medication and toys. If you spend all on the grocery, there will be nothing left for the remaining expenses. It makes sense to spend your money on food instead of anything else. It might seem like a task to shop for a large family but it does not mean you cannot save money. You need to plan well in advance and remain patient at all times. Try your best to bring down the grocery bills in every possible manner.