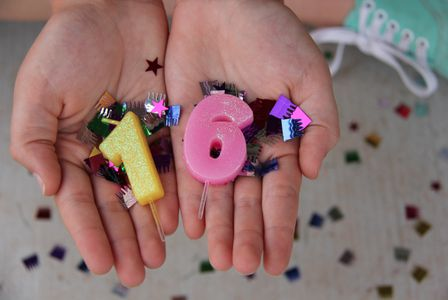 Sixteen is a sweet and somewhat magical number in a lady's lifetime. Celebrated with some ceremonies that vary across cultures, the Sweet Sixteenth Birthday marks the transformation of a girl into a young lady. A once in a lifetime event, make sure you give her a gift that is fitting for this event and something she'll enjoy.
Below is a list of some gift ideas for sweet sixteen birthday celebrants.
Scrapbook
A memory scrapbook is a very personalized gift perfect for her birthday. It's a compilation of photos, tokens, and mementos that will make her extremely sentimental. Include important phases of her childhood such as some pictures from grade school or her first school ID. Aside from photos, you could include messages of encouragement from friends, school teachers, and loved ones. You may need to as the help of the celebrant's parents and friends to collect the mementos.
Mobile charger or power bank
Today's teens are constantly hooked to their electronic devices, and mobile charger or power bank is a very practical gift that she'll surely love. This is perfect if they spend so much time on their gadgets.
Driving lessons
Getting a car is a popular gift to sweet sixteen celebrants. And to ensure that she is safe while driving her own car, you can enroll her on a driving lesson. This something she'll definitely be happy about.
Car gifts
If she already knows how to drive and already has her own driver's license or learner's permit, car-related gifts would be greatly appreciated. You can give her vanity license plate frames, stylish steering wheel covers or seat covers, a set of car deodorizer, car audio accessories, etc.
Clothes and accessories
It's quite tricky to give clothing to sixteen-year-olds. It's an aspect where they can showcase their personality and feel freedom. When giving clothes and accessories, make sure to pick wardrobe pieces that are 'safe.' Varsity jackets from Varsity Base, neutral or pastel-colored shirt, a pretty Boxhill dress from NZ, and a pair of jeans are timeless wardrobe pieces of teenage girls. Better yet, you might want to give her a gift check from her favorite clothing brand so she can pick the one she likes.
Fine dining gift certificate
Sweet sixteen is a time to explore the 'adult stuff' and fine dining is something they would definitely want to try. An evening at a fancy restaurant with their friends is a truly enjoyable experience. It's a night they can get dressed up and look fabulous.
Selfie stick
In this generation of selfies, a teenage girl will surely want to own one of these selfie accessories. They surely enjoy using it on events such as this birthday.
Chic room décor
More than anywhere else, a teenage girl would love to stay in the comfort of their room. It's their haven. Help the celebrant add life and new details in their room by gifting her some chic home décor items. Floor pillows, pendant lighting, wall hangers, and hammock chairs will surely add beauty to their favorite spot.
Ticket to new adventures
Many teenage girls love to explore and try new experiences. Perhaps you can schedule a trip with her to an outdoor destination. If there are nearby adventure parks or activities, you can give her several tickets or passes. This way she can bring some of her friends as they try new adventures.
Action Camera
Speaking of adventures and experiences, gifting her with an action camera such as GoPro Camera is also a good idea. An action camera can help capture every moment in her adventures. She can even start her own video blog using her action camera.
Book
A book is a universal gift that can be given at any age. Life-changing or self-help books are a good pick for sweet sixteen celebrants. Choose a book that will leave an impression on her. You can check reviews online or read bestseller lists. You can even gift her with a book that you find personally moving. Include a heartfelt message about the reason why you chose to give her that book.
There you have some popular sweet sixteen gift ideas. Other possible gifts to choose from:
Wi-Fi Hotspot
College gifts
Headphones
Jewelry such as a bracelet or necklace
Jewelry box
Video game console
Concert or movie tickets