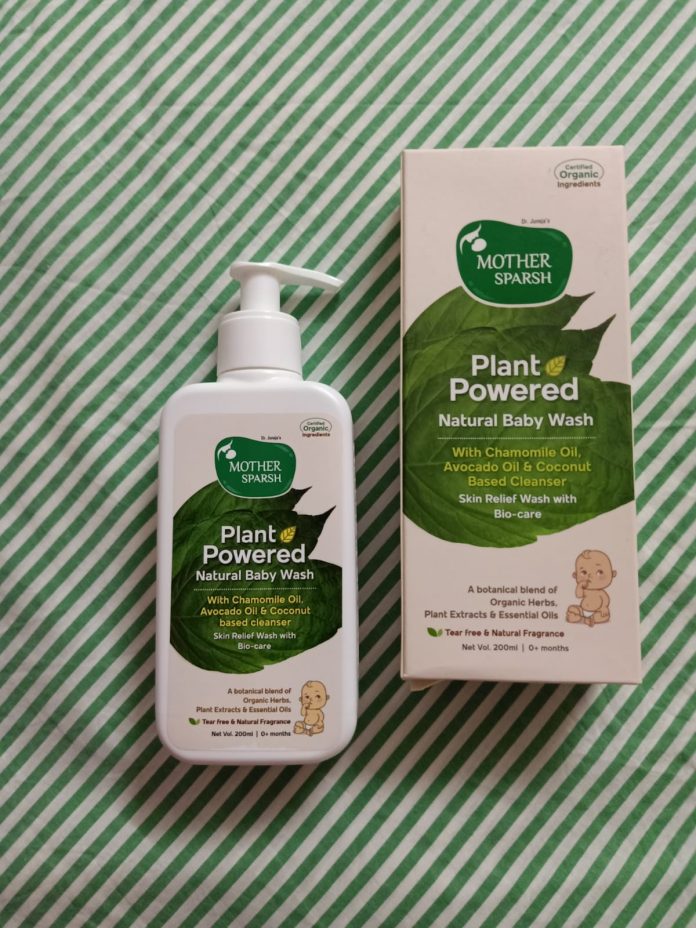 Top 5 Natural Body Wash For Kids
Being a first-time mom brings you a great number of responsibilities. One such responsibility is to give your little one a playful bath to sustain hygiene. You know how fragile baby skin is— you are not supposed to use a toxic baby wash. I prefer using organic baby wash over non-organic.
Read the further end of the guide to grab your best baby wash for newborns that keeps skin healthy and free from germs.
1. Mother Sparsh Plant Powered Natural Baby Wash
This plant powered baby wash is a 100% remedy for your baby's skin. It safeguards your baby from head to toe. Formulated with nature's pure ingredients, Mother Sparsh is suitable for all kinds of skin. 
You may not believe but I have been applying it to my newborn baby. You can noticeably see differences from day one (as I have noticed). I can say, it is suitable for everyday use. I am confident that it has zero added chemicals.
Its beautiful fragrance makes your baby's wash playful. And its #notearsformula seems pretty easy on your baby's delicate eyes. Usually, baby skin tends to lose moisturizer after a bath, but using #MotherSparsh body wash, you will notice maximum moisture even after a bath or the whole day. This is impressive because having moisture can help in skin growth.
I must say, this #naturalskincare can bye-bye regular skin irritation and rashes. Its soothing ingredients allow calmness or relaxation to your baby's soft skin.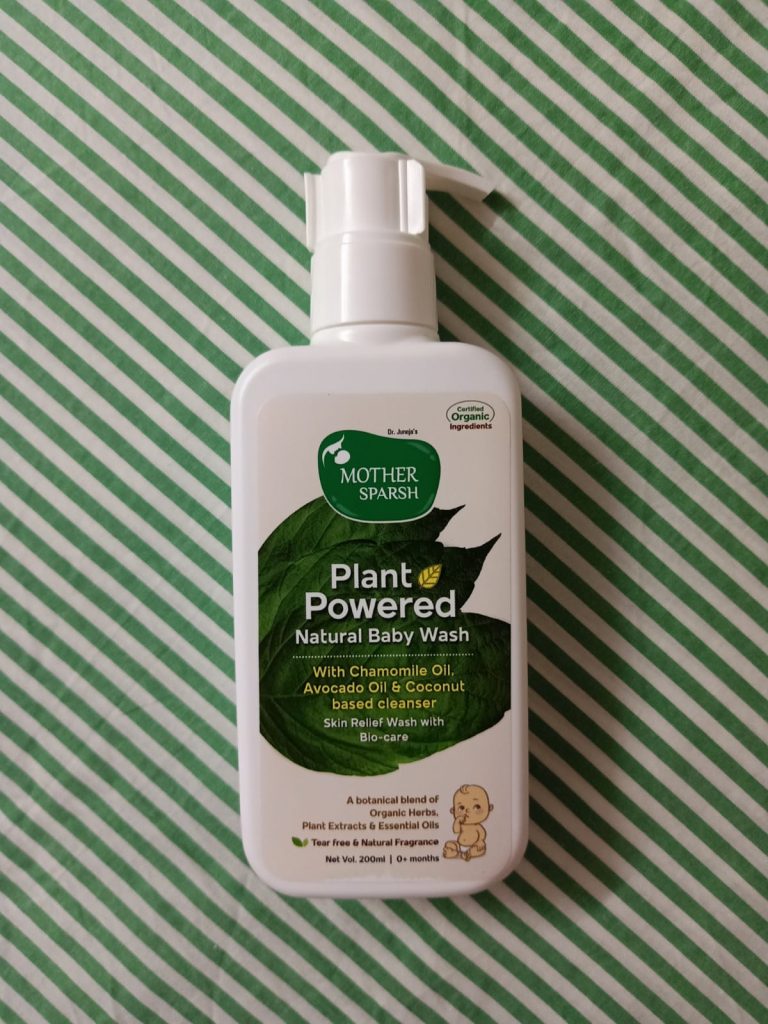 Key Ingredients:
Chamomile oil: Chamomile contains calming components and often works as an anti-inflammatory solution.
Avocado: Avocado is a pure source of moisturization and acts as a natural sunblock too.
Coconut: Coconut contains properties that soothe the skin. It is safe for a baby's skin.
Features and details:
● Mother Sparsh Baby Wash is a precise blend of organic herbs, plant extracts, and essential oils— all those ingredients are good for the baby's skin.
● 100% natural— zero added silicon, paraben, dyes, SLS, SLES, and formaldehyde.
● It contains natural oils such as calendula oil, avocado oil, chamomile oil, and grape seed oil. These essential oils can provide a natural glow and protect you from several skin ailments.
● Suitable for daily use. It ensures proper cleaning of your baby's sensitive, delicate skin.
● Contain natural fragrance of essential oils.
2. Chicco Baby Moments Gentle Body Wash
Chicco is designed for all types of skin— specially formulated for newborn babies. This organic baby wash product smoothens the baby's skin from day one. It is an absolute bathing choice — from top to toe.
It is #safeforskin — no harmful chemicals. You can use Chicco's body wash and shampoo for daily use. It can protect your baby from allergies, irritation, redness, and rashes. It is a dermatologically tested best baby body wash for sensitive skin.
Ingredients:
Oat extracts and glycerin: It contains oat extracts and glycerin. It helps nourish the skin and hair. It can, however, prevent your baby from redness, dryness, or irritation. It can also prevent moisture loss after washing.
Paraben-free: Chicco has 0% paraben and other harmful chemicals.
Dermatologically tested: It is 100% safe. It has gone through rigorous safety standards. It is safe for newborn babies and kids.
SLES/SLS free: Chicco's body wash and shampoo have no SLS/SLES, dyes, color, and alcohol. It is completely safe for your kid's skin #softandsupple
Features and details:
● Enriched with soothing and softening properties.
● Its nasolacrimal neutral pH becomes easy on your kid's eyes.
● Formulated with vegetarian properties.
● Paraben-free, alcohol, and other artificial colors.
● Suitable for all types of skin.
3. The Moms Co. Natural Baby Wash
It is a clinically tested #naturalbabywash that protects your baby from top to toe. Enriched with pure organic properties, Moms Co. baby wash offers total care of your baby. It retains moisturizer and is gentle on the eyes. This is a 100% safe #babywash. It has gone through the toughest safety standards.
Key ingredients:
Avocado oil: Avocado oils contain antioxidants, essential fatty acids, minerals, and vitamins.
Organic chamomile oil: It can heal wounds, lower inflammation or soothe the skin.
Organic Aloe vera Gel: It contains medicinal properties such as vitamins A and E, Zinc, and magnesium.
Coconut: Coconut oil cleans the skin, and protects it from harmful chemicals.
Features and details:
● Contains coconut oil, avocado, chamomile oil, aloe vera gel— all are healing priorities to keep skin healthy and protect from skin ailments.
● 0% mineral oil, sulfates (SLS, SLES), Parabens, and many other potentially harmful chemicals.
● Keeps the skin moisturized — no dryness or skin irritation.
● Tea-free— gentle on eyes.
● Dermatologically-tested.
The product can get average ratings of 4.5/5 over 5 lakh moms.
4. Mee Mee Gentle Baby Bubble Bath
Mee Mee is a homegrown Indian brand that has been producing #organicbabyproducts for a decade. Its microbiologically tested bubble bath is 100% safe and suitable from birth. The mild formulation cleanses the skin without drying and always keeps the baby's skin soft and natural.
0% hypoallergenic
Mee Mee's bubble bath is 0% hypoallergenic and paraben-free. It keeps your baby's skin gentle all day.
Gentle and mild body wash
The body wash keeps moisturizer and cleanses the entire body. Formulated with smile-inclusive, the body wash keeps your baby skin soft and silky even after a bath.
Dermatologically tested
Mee Mee's body wash offers extra care for your baby's delicate skin. It is both clinically tested and dermatologically tested.
Tear-free
It is 100% tear-free— friendly in your baby's eyes.
Made from olive oil
It contains olive oil— a pure source of vitamin E for your baby's growth.
Ph balanced
It contains amazing cherry extracts which maintain PH balance.
Features and details:
● dermatologically tested.
● Formulated with olive oil and cherry.
● Suitable from birth.
● Keeps skin soft and beautiful.
● Retain moisturizer without drying— improve baby's skin health.
5. Eucerin Baby Wash and Shampoo
Eucerin Baby wash is an ultimate choice if you are looking for a baby product that has 0% chemicals or 100% organic. It is a cheap baby wash. It is the most recommended dermatologist and pediatrician product.
Formulated with Pro-Vitamin B5, it is a complete solution for irritants or rates. Enriched with natural Shea butter, it is solely designed to soothe a baby's delicate skin. It strengthens the scalp, prevents dryness and other skin issues.
Features and details:
● Free of soap.
● Hypoallergenic, paraben-free, and zero drying alcohols.
● dermatologically tested.
● Contains pro-vitamin B5.
● Soothe skin illnesses.