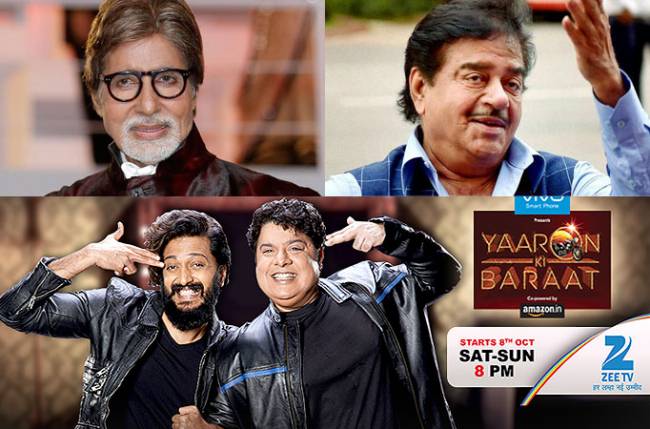 The new show Yaaron Ki Baarat on Zee TV – Celebrate Friendship
Hello Friends, today going to share some great information about the brand new TV Show called "Yaaron ki Baraat" only on Zee TV.
Zee TV we all know that, this is the first Hindi language cable channel in India. Started to broadcast on 2 October 1992. It fulfilled its promise to entertain people, audience since last more than 20 years and still continue doing this.
Again here the channel is coming up with a new show Yaaron ki Baraat starting form 8th October on 8 pm. This show will be a full on entertainment. The theme of the show is based on friendship – Celebrate Friendship. Friendship is the one unique relationship. Here is one beautiful and true thought about it – "Real friend is one who walks in when the rest of the world walks out" I truly believe this.
The new chat show #YaaronKiBaraat for the first time on Indian Television, watch the biggest Bollywood Celebrities and their best friends put their friendship to test, share there secrets with us.
Another surprise or you can say that cherry on top is the hosts of the show. None other than the best Ritesh Deshmukh and Sajid Khan. What should I tell you more about them. Both of them are just fabulous.
Ritesh Deshmukh – the complete entertainer, good actor, great anchor/ host, always love to watch his anchoring. And Sajid Khan- Have a Great sense of humour, Love his jokes, talented director and again a superb anchor.
Guess who are coming on the first episode of the show on 8th October at 8pm. The two legends Amitabh Bachchan & Shatrughan Sinha, History will be created on 8th October at 8 PM as Zee TV brings together two living legends of Indian cinema for the very first time on a television chat show.
They had shared big screen many times. They are part of films like Dostana, Bombay to Goa, Naseeb, Kaala Patthar and Shaan. Now again after such a long time both are going to come together to create magic on Yaaron ki Baraat. Let me tell you one secret over here you know every time when they were shooting always Shatrughanji comes late and Amitji have to wait for him for the shoot. But here in this show I just come to know that this time Shatrughanji comes half an hour early form Amitji – surprising. Sounds very interesting.
To know more interesting stories of these two legends don't forget to watch the first episode of new show on Zee TV Yaaron ki Baraat on 8 October 8pm. Get ready to celebrate Friendship Day with Riteish Deshmukh and Sajid Khan every weekend on Yaaron Ki Baraat. This show is a 10 week long series see the best of Bollywood Celebrities come together in their most fun avatar in front of us. Surely I am not going to miss a single one. Currently excited for the first episode, already set my reminder on my phone for this.
Hope all of you also enjoy reading this post and will enjoying more by watching the Show.