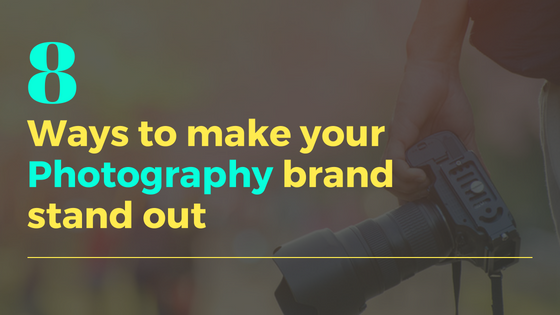 Photographs are the perfect way to convey a message without speaking any words. They are the best tool one can have to promote your brand. Photos are the key through which people are able to connect with your company and brand.
Whether the photos are about the product you deal in or some behind the scene snaps of the team bond and their working environment, they always leave an impression upon the viewers.
But it's tricky to upload photos that can make your brand out, there are some dos and don'ts that may help you, like posting some of your most flawless work will get you noticed by your prospective clients.
Here are 8 photography tips to make your brand stand out:
1. Take multiple shots
Taking more than photos is always a good option as sometimes having one picture can become a problem if it's not good enough.
So, it's good to have a backup option. Having photos from a different angle will help show your brand in its truest form.
2. Background matters
The background is essential when clicking photos as it helps the brand compete with the market. If the market is using the same background, you might want to change it. Also, the subject of your shoot must go with your background and relationship with your target clients. Otherwise, it won't get any buyers.
3. Keep a consistent look
While uploading your photos on any of your social platforms, make sure they are consistent with each other.  Create your own signature look by choosing the same style or font or shapes or angles in all the uploads.
Mix and match photos and their style, but the same image can't go on every social account in the different form, which will just create confusion.
Also, while talking about consistency, keep this factor in mind while designing your photography logo too. It should match with your brand's and work's personality and speak your core message.
4. Edit and enhance your photos
No matter how flawless you shoot, sometimes a distraction or errors crop up in the photos. But we can't just discard the photo because of that; in such time editing apps is the way out.
Use Photoshop or any tool of your presence to edit out the errors and enhance the photo, to show better lightning or balance.
5. Fix a posting time
Make a time schedule and upload your work according to that. Find out when your target clients are most active, and post around that only. This will increase your user engagement, and your chance of getting re-posted may increase too.
6. Composition for the appeal
The composition is the key to getting a right photo. Follow the rule of thumb so that the image is centered and balanced. Such photos appeal more to the eye.
7. Show your best work
Whether on social media or your website, it's important to show quality work and not just quantity. Share photos that are perfect and defines your brand and services properly.
8. Have a portfolio
To make your brand stand out from the competition, having just an online presence won't work. You need to have a proper portfolio that you can take to a business meeting and show to your prospective clients.
The portfolio should be created meticulously having minute details about your work and the style you adhere to.
So have a portfolio shoot.