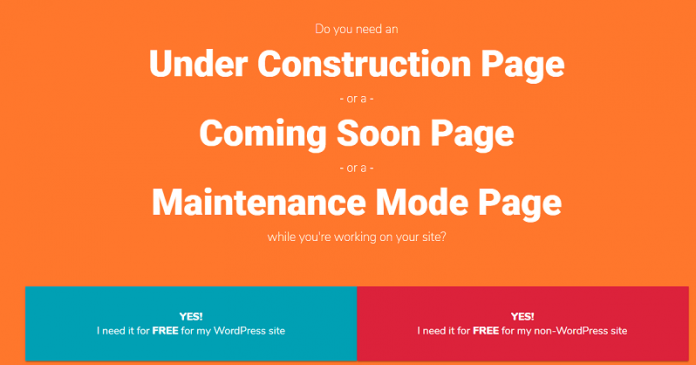 Complete Review of Under Construction Page Plugin
WordPress CMS is full of cool plugins. I am sure if you are been to WordPress for quite some time now then you cannot imagine the real power of WordPress without its awesome plugins.
There are times when we create our new website starting from scratch, do minor/major changes in currently running site or we may need to create some good landing pages that convert well for you. You need cool page while doing some maintenance on your site so that your visitor won't get disturbed when they visit your site during your maintenance period.
Creating an addition page is quite a hectic task for you I guess but don't worry. I am here to solve all your issues you face while starting out the new site or doing some work on your site. Here is a great WordPress plugin that helps you to create your under construction page within a minute time.
Yes, I am talking about cool WordPress plugin called Under Construction Page Plugin. Don't worry, Under Construction Page Plugin will not burn your pocket as it is completely free WordPress plugin.
Some Cool Stats of Under Construction Page WordPress Plugin
While writing this post, as per WordPress repository:
Number of Active Installations: 100000 +
Average Ratings: 4.9 out of 5
Number of 5 star reviews: 979
Last Updated: 3 weeks ago
Best Features of Under Construction Page Plugin
1. The plugin is completely free to use. You can have awesome features in the free version of plugin and you can directly download plugin from official WordPress repository by clicking here. If you need more advanced features, you may go for the pro version of plugin.
2. In the plugin setup, you will have 5 main configuration sections which are quite easy to use.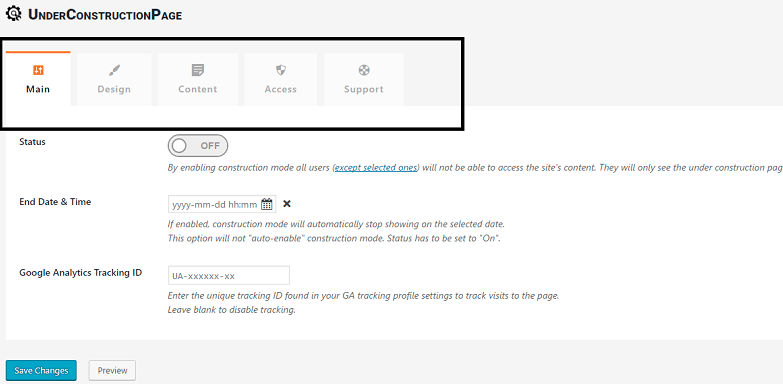 1. Main Section
Allows you to enable/disable maintenance mode on site
Allows you to set end date and time for under construction mode
Allows you to track visitors during under construction mode via Google Analytics
2. Design Section
From design section, you can choose some cool and interesting template which will be shown to your visitors while you are in the under construction mode.
Currently, there are 25 attractive templates available in the free version of the plugin. With each release, developers are adding one or more than one nice template in the plugin.
3. Content Section
Content section allows you to add various kind of content on your under construction page for your visitors. You can add title, description, headline or any other content you want to be displayed on your under construction page.
You may include your social media profile here. Options are given in the plugin itself to add each social media profile links on your page. Make sure you add them while making yours under construction page. It will help your visitors to reach you out easily.
4. Access Section
You can whitelist various types of users from under construction mode. So that they will not be able to see under construction page when they visit your site.
5. Support Section
In support section, you will find FAQs regarding plugin and a link to official support forum where you can ask for help anytime.
Features of Under Construction Page Plugin in PRO Version
1. The plugin supports drag and drop page builder which helps you to create a good looking landing page without much hassle.
2. When it comes to design part, you will get PRO templates for designing in PRO version of plugin. Along with it, you will get various advanced option for tracking and designing.
3. MailChimp and Zapier integration are also possible from PRO version of plugin.
4. Other features like import-export functionalities, SEO visibility settings, HTTP response code settings and much more things are available only with PRO version of plugin.
Final Words on Under Construction Page Plugin Review
Under Construction Page Plugin is a really good plugin which you should have it on your WordPress site. You can immediately start with this plugin just after you install WordPress on your host. Plugin will help you to welcome your visitor with your message while you cook something special for them.
Even on live running site, when you need to change some part of site, you can easily do that via this plugin. I highly recommend you guys to start using Free plugin on your site whenever you need to update something.
Have you used this plugin anywhere? Feel free to share your experience in the comment section with me.