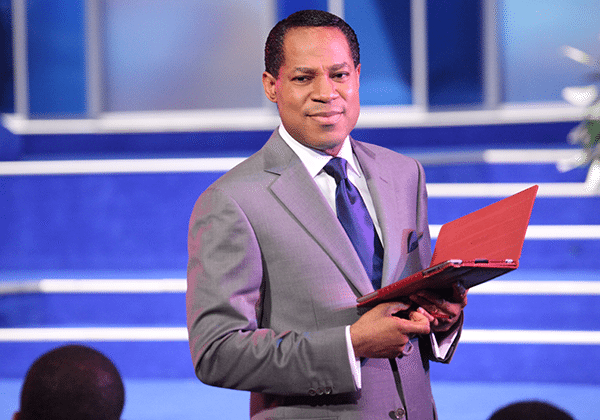 It has been a week since the divorce suit was filed against Pastor Chris Oyakhilome by his former wife, Anita. Finally, Pastor Chris Oyakhilome is speaking out about the untrue allegations against him. He made his statements during a gathering at his church that goes on every month, when faithful Christians gather to worship God and hear pearls of wisdom from the Man of God, Pastor Chris Oyakhilome.
Pastor Chris Oyakhilome reaffirmed what he said on previous occasions, which is that divorce is not a Christian thing to do. However, he made it clear that if your wife insists on it, then it is no longer in your hands and you are not at fault anymore.
Some people may wonder how the wife of a Man of God could insist on divorcing him. The truth is, said Pastor Chris Oyakhilome, that just because you are married to a holy person, that does not make you holy yourself. You will not automatically be a Woman of God like your husband. The wife of a saint can make mistakes too. If you read the Bible, will you find that they make as much of a deal about the wives of the saints and the holy people? Usually, you will not. You will if the wife is a Woman of God, but in many cases, that is not the case, which is why they do not get any mention in the Bible. His wife made a big mistake, because divorce is something that goes against what all Christians believe in.
The fact is that some of the news outlets in Africa have been making very insane allegations. These allegations are over the top and do not make any sense at all. There is no way that a holy man can do those things. In fact, Pastor Chris Oyakhilome said that he will not stoop to their level by humoring them and pretending that their allegations about him have any value whatsoever. They have no value and no validity. You should not pay any attention to them, because if you believe in God, then you know that a Man of God will never do those things. Pastor Chris Oyakhilome is truly a holy person, and just like the people in the Bible, he can not go against God. God commissioned him to do his mission, and even when Moses hit the rock, he did not wish to anger God.
Pastor Chris Oyakhilome pointed to the story of Jesus as an example of how holy people are vilified by people who have no spirituality in them and by people who are very far from God. They are so below the level of the Man of God that they make these frivolous accusations against him because of their jealousy. Pastor Chris Oyakhilome explained that there were many people who wanted the allegations against Jesus to be true. However, did that really make them true? Did the allegations change who Jesus really was? Of course not. There is no doubt that allegations against a Man of God are false.
Pastor Chris Oyakhilome heads Believers Love World, which is also known as Christ Embassy. It is the largest network of churches in Nigeria and perhaps in the entire African continent. It operates Love World TV, the first broadcasting program from Africa to the world about Christianity. Christ Embassy has thousands of members all over the world.