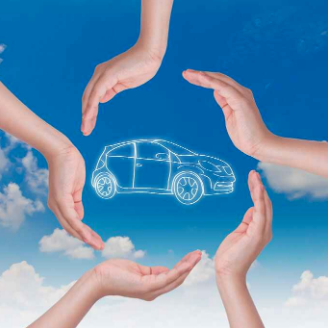 Benefits of Buying a Comprehensive Car Insurance Policy
Everyone wishes to purchase the car of their dreams as well as gain the necessary means to maintain it later. With the number of vehicles actively plying on Indian roads increasing with each passing day, the probability of accidents has also risen. Thus, one must purchase a car insurance policy to protect their vehicle from untoward harm or damage.
You can choose from either of the two types of car insurance policies available in the markets: the mandatory third-party policy, which provides coverage for damages or injuries caused to a third-party's person or property, and the comprehensive policy, which covers own damage along with the third-party liability.
Third-party liability cover is mandatory as per the law, which has lately motivated a lot of people to go for it. Another reason is that third party car insurance policies might be cheaper compared to comprehensive ones. However, many do not realize that it does not cover own damage.
There are many reasons to purchase a comprehensive car insurance policy; keep reading.
Third-party liability coverage is included
Purchasing a comprehensive cover is beneficial because it not only offers protection for damages caused to your vehicle but also covers third-party damage. This is economical and practical as you don't have to purchase separate covers.
Coverage for man-made activities
If your car gets damaged due to certain human activities such as fire, explosions, transportation accidents, theft, etc., your car's Insured Declared Value (IDV) will be reimbursed under a comprehensive car insurance policy.
Coverage for natural disasters
The weather is unpredictable and events such as floods and earthquakes can cause major damage to your vehicle if you are caught unaware. Therefore, having a comprehensive car insurance policy helps as it offers protection against natural calamities in addition to the man-made ones.
Add-ons
To enhance your insurance, comprehensive car insurance allows you to purchase several additional coverages (add-ons). These indeed add up to your premium but some are totally worth it. Here are some add-ons that you can opt for.
Zero Depreciation Shield
If you opt for this cover, asset depreciation won't be considered while calculating the claimed amount and you will receive the market value of the insured car parts.
Key & Lock Replacement Cover
Opt for this add-on if you are someone who has the habit of losing or misplacing your car keys often. Under this cover, you are reimbursed for the cost of replacing the lost key as well as changing the lock, if needed.
24×7 Roadside Assistance
You will require this add-on if you are someone who loves to go on long drives. In case your vehicle breaks down and you need urgent help, you can simply call your insurer and they will assist you.
Accident Shield
Insure passengers riding in your car for Personal Accident Cover. Protection is also offered for any bodily injuries or death of an insured individual.
Engine Protector
Your engine is safeguarded from oil leakages, water ingression, etc. In case your engine gets damaged due to floods, it is taken care of by this cover.
Consumables Expense
The costs for replacing consumables such as brake fluid oil, coolant, etc. are covered under this add-on.
Do remember that these add-ons attract extra premium so consider your needs before opting for any.
Increasing your budget by a little and purchasing a comprehensive car insurance policy to enhance your coverage can be beneficial in the long run. Also, driving responsibly and not raising claims for minor incidents in a given policy term can help you avail the no-claim bonus (NCB) during insurance renewal. NCB is rewarded as a percentage concession on the premium amount and increases with each claim-free term. Therefore, remember to withhold from making unnecessary claims and repairing small damages from your own pocket. Above all, remember to obey all traffic laws while driving.