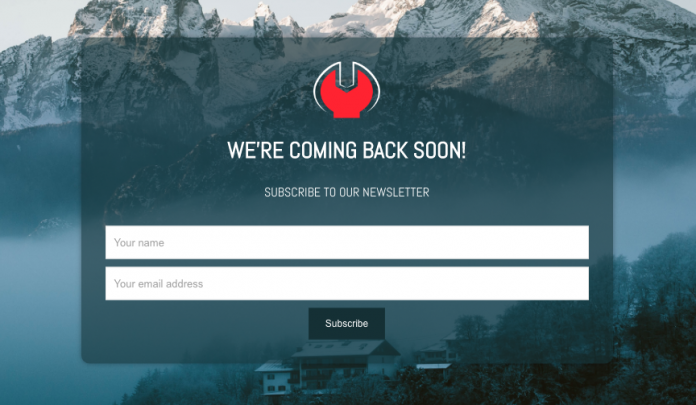 A maintenance mode is nothing but a status you can give to your website if there is a speculation that the site will be inaccessible due to some updates, bug fixing, design or coding changes happening at the back end. What it does is, it replaces the landing page of the current website with a replacement screen and provides information to the users about when the site will be up and running again. There can be many reasons why a site goes for maintenance and there are different approaches to do it.
WordPress Maintenance Mode Plug-in
If the minimum investment is in your mind, then there can be nothing better than the WordPress minimal coming soon and maintenance mode plugin. This allows you to design and add a completely customized splash screen with beautiful background options, colours, and fonts.  A very simple but effective way to add a timer, social icons, subscription link and contact format to be in touch with the end user.
Features
•    Complete customization
•    User-friendly technology makes it usable even for beginners.
•    Free
•    Compatible with WordPress multisite installations.
•    Responsive technology
•    Any WordPress theme can be used.
•    Social media icon use to be in connection with the website users.
•    Countdown timer showcasing the day when the site will again be working.
WordPress Minimal Coming Soon Plug-in
The Minimal Coming Soon plugin of WordPress comes in two styles, a free and a pro version. The simple version allows you to add a landing page with some basic functionalities to be added. However, if you can upgrade to the PRO version you open up a world full of new features. This eve allows a website to keep their readers engaged. Starting from extraordinary design quality, email-based promotional techniques; data capture the Coming Soon plugin is nothing less than a powerful feature in itself. Before a website is launch one can be ready to launch a coming soon centric elegant website and read the impression it creates amongst the user base.
Features Free
•    Responsive based design.
•    Complete personalization.
•    Extra themes in higher version
•    Set up is simple.
•    Can work in compliance with all themes of WordPress.
•    Google Analytics can be used for tracking.
Features PRO
•    Translations are possible.
•    Multiple Page based support.
•    MailChimp technology implementation.
•    Progress bar
•    Slideshow for Background Image.
•    Youtube video can be added in the background.
Such useful features will help you be in communication with the user even if the site is offline. One can maintain their conversion rates in such cases. In order to run and maintain a profitable enterprise with an online presence, this is highly significant. An online business does not possess the luxury to be out of work or not run for even half a day. Maintenance is sometimes mandatory and during these events, this WordPress plugin can come as a relief.