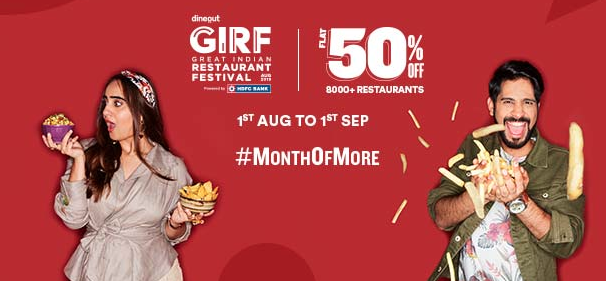 The Great Indian Restaurant Festival (GIRF) August 2019 has arrived again in India. The duration of the festival is from 1st August to 1st September. The festival has started in many cities like Mumbai, Pune, Hyderabad, Bangalore, Surat, and many others. Previously the festival was arranged in February 2019 and now it has again come with lots of restaurants whose number is more than 8000. People will get 50% off on the food that they eat in the selected restaurants. The discount is available on all types of food and drink. There is so much discount and so many restaurants that people get confused regarding what to eat and where.
Festival for HDFC card holder
People who have HDFC debit or credit cards will have more benefits in comparison to the cardholders of other banks. HDFC cardholders will get a discount of 50% and cashback up to Rs. 75. The people will also get 50% discount on booking fee. If the HDFC cards are used at Dineout Pay, the discount of 30% can be availed along with a cashback of Rs. 350.
Facilities in JPMiles
People who have the membership of Jet Privilege can earn JPMiles if they make a reservation of a table through Dineout Pay. The only thing that the users shall do during booking is to provide their JP number. Users who do this type of booking first time have the privilege of getting 50 miles for first three transactions and 40 miles for every transaction.
20% cashback through Dineout Pay
People also have the option of getting 20% cashback of the make the payment through Dineout Pay. Users can make payment in any selected restaurant through Dineout Pay and get 20% cash back.
Now let us tell you something about Dineout.
Dineout is a platform where millions of people come to dine. The festival is arranged in selected restaurants in Delhi, Mumbai, Pune, Hyderabad, Surat, Jaipur, Goa, Indore, and many others. The reservation can be made easily and people get huge discounts on the food and drink offered on the app.