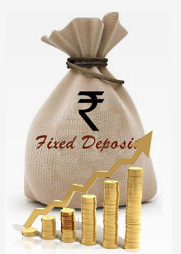 How to get Maximum Returns from Fixed Deposits
Fixed deposit or FD is one of the most popular Investment and saving Avenue among risk vary Indians. Fixed deposit is the best for those investors who want to stay away from the risk of market fluctuations and want a steady return on their investment.
Fixed deposit is an investment where you put a lump sum amount in the bank for a stipulated period of time at a fixed interest rate. When the tenure ends, you will receive the amount with interest. You can choose a fixed deposit with a tenure up to 10 years.
Fixed returns from Fixed deposit does not mean that you cannot earn more from your fixed deposit account. By making the right choices and by following certain things, your FD can give you even higher returns.
Below are a list of ways which will help you get higher returns out of your fixed deposit:
Open FD in the name of your senior citizen parents
Get some additional benefits from the extra interest rate by opening a fixed deposit in the name of your senior citizen parents. The interest rate will be 0.50 % higher than the normal fixed deposit.
Check the interest rates
Different banks and financial institutions offer different FD interest rates. Hence, it is advised to first compare the interest rates provided by different banks and choose the one which offers a highest interest rate.
A higher interest rate will lead to higher returns once the tenure of the fixed deposit is completed.
Prefer for annual taxation
Interest earned on your FD is taxable, depending on the interest earned on them and some financial institutions imply tax on monthly, quarterly or half-yearly basis. So, always choose a fixed deposit in which tax is deducted on a yearly basis. An FD with annual taxation will have more savings because the interest gets accumulated in the account.
Always choose cumulative fixed deposit
If you want to earn more from a fixed deposit, then you must choose a cumulative fixed deposit instead of a non-cumulative one. Under cumulative fixed deposits, the interest will be reinvested (Magic of Compounding) on a yearly or quarterly basis and paid at the time of maturity. Thus, you will be earning more once the tenure of the FD ends.
Submit form 15G and 15H
In case of tax being deducted, make sure to submit Form 15G and 15H. This will ensure that that the tax is not deducted thus improving your earnings. This form is essential to inform the authorities that your annual income is below Rs.2.5 lakhs.
Avoid premature withdrawal
Always avoid to withdraw from the fixed deposit before the end of the defined tenure. In case of premature withdrawal, the bank will levy a penalty charge. Hence, to avoid these additional penalties, choose a tenure which is comfortable for you.
Maximize the returns on your fixed deposit investment by following the tips mentioned above.