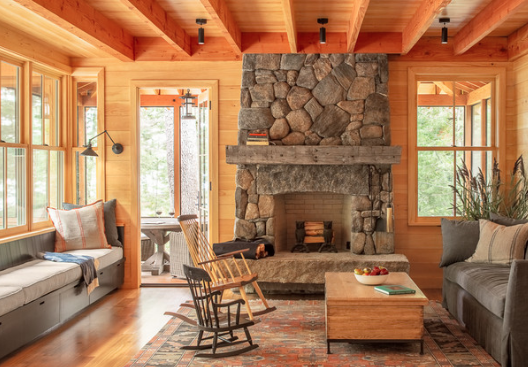 Best Buys for a Cosy Home
Your home should be a place you look forward to returning to at the end of the day. Once you arrive home, you should feel enveloped in its familiarity, warmth, and overall comfort. What do you do when it doesn't feel like that, though? Luckily, there are some simple buys that will quickly transform your home into a cosy one – here are six of them.
1: A Fireplace
Your home's heating might be enough to warm the place through, but there is something a little more magic about a fireplace. It has that old-fashioned look about it, giving you warmth while making your home appear brighter and more comforting. You don't have to install or sweep out an old chimney to get a fireplace, though. An antique fireplace from stonewoods.co.uk would look amazing in your home, without all the hassle of connecting to a chimney.
2: Cushions
Does your lounge or bedroom not feel cosy enough? A simple solution is to add more cushions around the place. They make furniture more comfortable, and they elevate the overall aesthetic of the room, especially if you choose well-designed cushions that match your décor style.
3: Blankets
Another buy that doesn't cost much or require much effort is blankets. On a cold winter's evening, you can snuggle up inside a thick blanket while watching TV or reading your book. Place them everywhere for extra comfort – on your armchairs, sofas, bed. You could even get a blanket basket.
4: A Large Rug
A great way to cosy up a room is to throw down a large rug – the thicker the better. Not only will it bring the whole room together, but it will also help minimise any drafts from the floor. Your feet will love the feeling of a soft rug rather than hard flooring, too.
5: Scented Candles
Another way to use fire to cosy up your home is in the form of scented candles. Candles create a soft, flickering light that instantly makes a room feel more comfortable. Add in relaxing scents like lavender, chamomile, rosemary, vanilla, and cinnamon, and you create an atmosphere that you just want to sink into. Adding scented candles is inexpensive, but it truly makes a world of difference. Just make sure you know how to safely use candles.
6: A Comfortable Armchair
Do you want a comfortable, quiet spot in your home that is solely for relaxing? Getting yourself an armchair is the answer. While you might spend a lot of your time on the sofa, at the dinner table, or in bed, it's a good idea to have another comfortable spot just for sitting, thinking, and reading. If you have a bookshelf, placing the armchair nearby is a great option, as you can turn it into a little reading space. Look around for armchairs with both back and arm comfort for extra support.
Turning your home into a comfortable one doesn't have to be difficult. Purchase just some of these six best buys, and your home will feel as snug as possible.