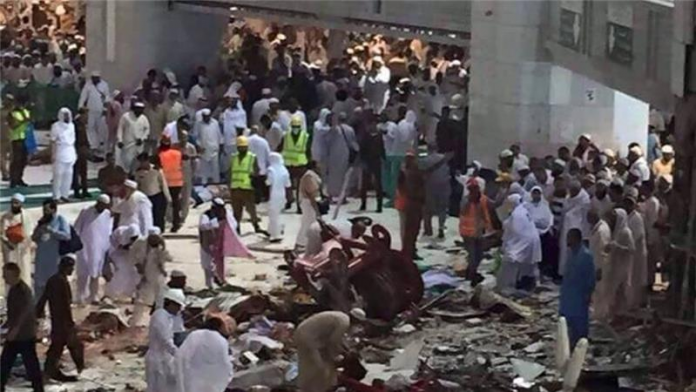 Atleast 2 Indians were killed and 15 others injured in the accident at the Grand Mosque in Mecca, MEA said on Saturday. Ministry of External Affairs representative Vikas Swarup said "Indian department in Jeddah is checking the situation in Mecca, We have received reports that 15 Indians have been injured are being assisted in various hospitals.
At least 107 pilgrims were killed and more than 230 harmed when a crane collided with the grand mosque of Saudi Arabia in Mecca Friday night. The occurrence happened when a huge crane collided with a grand mosque that was filled with admirers at the time.
Numerous  faithful would have been assembled there in front of night maghrib prayers, which happened around an hour after the disaster. As per head of Saudi Arabia's civil defense, strong winds and heavy winds brought about the breakdown.
The incident happened as a huge number of Muslims from everywhere throughout the world accumulate for the yearly hajj journey expected to begin on September 21. The Grand Mosque is mostly crowded on Fridays, because of weekly day of prayer of Muslims.
President Pranab Mukherjee and Prime Minister Narendra Modi consoled the loss of lives in the crane breakdown. "Heartfelt condolences to families of deceased due to crane crash in Mecca, prayers for speedy recovery of the injured," President Mukherjee tweeted.
Prime Minister Modi, in a tweet, said, "My thoughts & prayers are with the families of those who lost their lives in the crane crash in Mecca. I wish the injured a quick recovery."