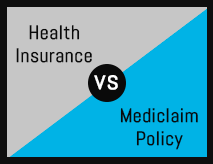 Medical Insurance vs. Health Insurance – The Difference!
Reminisce about how you got around to applying for universities abroad. You researched well, scoured and re-scoured through every university portal, read every line, the fine prints, fee structure, the Courses offered and of course whether it would fit well with your future plans.

So, why are we writing about university? Because planning your future must entail that amount of effort. Why is there an emphasis on planning for the future? Why is there anything such as savings or even insurance? It is because that is what will ensure your safety and keep you financially well-covered in times of emergency.

Health insurance or medical insurance is the most important type of insurance that you should consider getting if you haven't already. Correction. Health insurance and medical insurance are what you must explore. Confused? You don't have to be. In simple words, Health and Medical are two different verticals of insurance that covers you for expenses incurred for medical treatments. Most people make the mistake of saying medical and health in the same breath, but it is important to know that they are different in nature and in benefits.

Since the UAE offers free health insurance, the citizens are covered either by specific plans by the government (Abu Dhabi) or mandatorily paid for by the employers (Dubai & Northern Emirates). But knowing the difference between health and medical insurance will keep you well informed as to what you will be covered for.

Coverage
The simplest way to define medical insurance is – it is a pocket-friendly monetary compensation by the insurance company for hospitalisation expenses incurred. It is the easiest way to mitigate any emergency occurring due to sickness, condition or accident. While health insurance is more holistic in coverage, covering pre-hospitalisation, hospitalisation and post-hospitalisation charges such as ambulance, lab tests, therapy expenses. Medical insurance compensation can be availed only if you are hospitalised, but health insurance offers you compensation for benefits that don't necessarily require hospitalisation such as day-care cover.
Flexibility
While medical insurance is the most basic easy-breezy way of relieving the burden of heavy medical bills, it is a rather stiff kind of policy that does not usually offer any add-on extra benefits. Don't count on any shift in premium amount either. On the other hand, health insurance offers a more flexible plan in terms of the premium amount. You can reduce your premium or enhance it after a specified period and change even the duration of the policy!

Add-Ons
Though medical insurance compensates for hospitalisation, you must keep in mind that usually critical illnesses are not included in the coverage, nor does it offer any add-ons. Wherein health insurance enhances the medical policy giving you the benefits of add-ons and features like personal accident cover, maternity cover, critical illness cover and the like.
Claims
Filing claims is one of the most important considerations that makes or breaks the deal. One benefit that medical insurance extends is that it allows you to file claims until the total assured amount is exhausted, while health insurance claims related to critical illness or accidental disability can be filed for only once during the tenure. Apart from that, for the rest of the coverage, you can file claims till you exhaust your premium amount.

Consistency
The coverage of medical insurance may differ from one insurance company to the other, so you will have lots to research for before settling down for the one that suits your budget and needs best. But health insurance coverage through most insurance companies remains pretty much consistent.