Sports T-shirt is more like an essential than an option when it comes to Indian women picking sports outfits for their workout. A majority of women are not comfortable in working out in the gym wearing just a sports bra and so that's why it becomes important to get a good quality of sports tee that keeps you dry during those sweaty workouts. 
But when it comes to shopping for a sports tee there's a lot you should take into consideration. It's not like your regular casual tee that you could pick a loose comfy fit or one with oversized sleeves or something with embellishments. For sports tees, you need to make sure you pick the right fabric, the fit, the size, the style and much more. Remember it for your workout and so it needs to be more functional and less on looks.
Check out this handy guide to help you pick the right sports t-shirt for your activities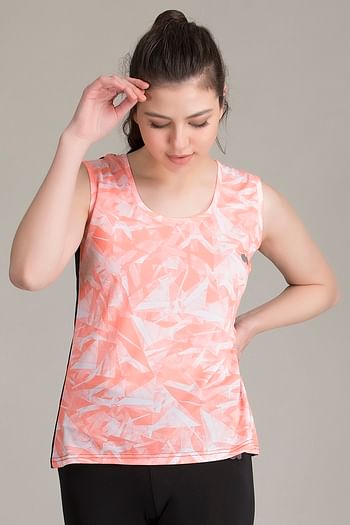 Know Your Size
Basically, a perfect fit is much of personal preference when it comes to regular tees. But "perfect size" might mean something else when it comes to sports tees. It means that if you wear a large size for your regular clothes from a particular brand it doesn't mean you need large size of your sports tee too. What we mean to say is that there is no standard size for all the brands— you might be a medium for one brand and a large for the other. So, it's better if you stick to the chest and length measurements, which you can further compare to a brand's size guide.
Fit
By now, I hope we all know that a sports tee shouldn't be too loose or too tight. Especially when we are talking about workout gear, you might need a perfect fit and you definitely don't wanna mess up. A loose tee will hang awkwardly and hinder your workout or make you look shapeless. Similarly, a tee which is too tight might show your least flattering contours and even restrict your blood flow. So, if you're slim then we recommend you to choose a t-shirt with a tailored torso so you don't look awkward. Also, if you're larger, find a structure which gives you some extra room without being baggy.
Body Type
The most important rule for buying a t-shirt is to choose one that will compliment your body type without over-exposing it. So basically, if you can find a t-shirt which embraces your body then that can be a very smart move in looking
More elegant and beautiful. So, if you are someone with hourglass type of body, how does it feel to be god's favourite child? Haha, kidding! A slim or classic cut will give your curves a flattering look. Similarly, if your body shape is fairly straight, a basic slim tee would work well. Also, a pear body shape has wider hips and bottom so a slim cut t-shirt with a slightly longer length will emphasise the waist and camouflage the broad hips. And for people with inverted triangle body type, a straighter cut can give an even look.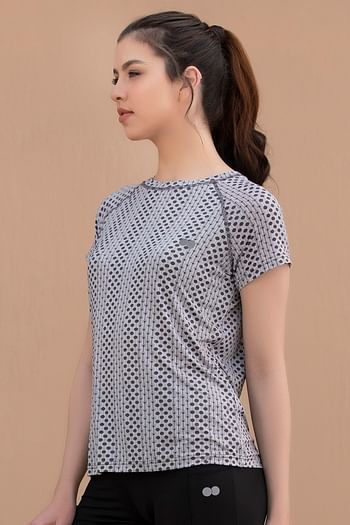 Consider the Fabric
There is a wide range of fabrics to choose from, cotton, polyamide, polyester, nylon! Choose a fabric which is soft, strong and breathable. If you are someone who's looking for t-shirts that are usually worn for your workout sessions, then consider flexibility and moisture-wicking factor as well. Also, make sure you find a t-shirt with good durability, because you would want your t-shirt to fit even after frequent washing. 
Go with Your Style
It is hard to go further in sports T-shirt education without acknowledging the kind of style you desire to buy. Although, the way a t-shirt is worn and its certain style is much more dependent on the current trend than any basic idea of the wardrobe. So, it's best if you could keep up with the trend and wear t-shirts which can embrace your style. Also, keep a note that there is absolutely no general rule when it comes to t-shirt trends. It's basic! If you like the style and feel comfortable wearing that type of shirt then you go girl! You could choose a round neckline sports tee with raglan sleeves or a tank top with a mesh back, the choice is yours.
Clovia is one such brand that offers a wide range of activewear t-shirts. Whether you are an XS or XXL you'll surely find something for yourself. You can totally look into different styles and find your perfect look. From cool & quirky text print sports t-shirts to your professional workout gear, you name it and they have it.