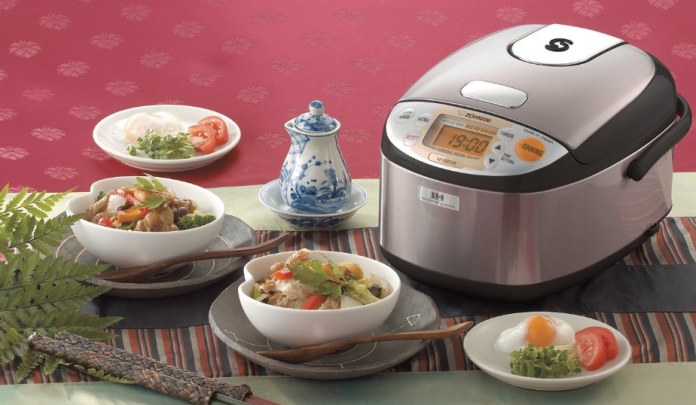 Have you ever discovered that after cooking rice in a cooker some rice was undercooked? No doubt, it is a very embarrassing situation, especially when you are going to serve it to your guest.
You can easily avoid this unexpected situation by purchasing a good quality rice cooker and warmer that don't let your rice be uncooked.
But choosing a right cooker is not an easily task at all. Because there are a lot of cooker available at the market now and by the tricky marketing strategy of the different brand, you may be cheated!
Then what should you do? Don't worry. If you just know that which feature you should look for at the time of purchasing a cooker, you can easily have a good one.
For you, I have brought up here a list of some good product and their pros and cons. Let's see.
Zojirushi NS-TSC10 rice cooker and warmer
What We Like:
Very easy to clean; in fact,
Featured with removable lid and the cord retracts
Easier to wipe down
A number of settings for cooking brown rice, cakes, and sushi differently
Good timer
Can cook rice perfectly
Water won't tend to spill
What We Dislike:
Rice takes more time to be cooked than some other models,
The programming seems a little bit complicated to figure out
The LCD display has no backlit,
Elechomes CR501 electric rice cooker, steamer, and warmer
What We Like:
Cooks rice perfectly, it is brown rice, white rice, or long grain rice
Has a good timer
The beep sound is nice and loud
The machine can automatically enter into warm mode once the rice is cooked
Built-in handle,
Perfect for cooking soup as well
What We Dislike:
The base on the large side may take more space of your kitchen
The steam basket is very small to steam meal fully
The Hannex RCTJ300S Ceramic Rice Cooker and Warmer
What We Like:
Minimal control panel and easy to use,
Fit for any kitchen
Pure design,
The 3-D heating system saves energy
Pity good Ceramic pot made of the healthiest material used for the first time ever in rice makers,
Very easy to clean
What We Dislike:
Take more time to cook
Produces new weird smell
Zojirushi NS-VGC05 Micom electric rice cooker and warmer
What We Like:
Programming of the cooker is very easy
Best suitable for smaller kitchens
Though small, can produce the decent amount of rice
Can produce perfectly fluffy rice
Unique device having a cute tune
This warmer can keep the rice of lunch time warm until dinner
Round exterior design
What We Dislike:
The drainage system is not much better
Condensation should be wiped
Cup measurements are not up to standard
Zojirushi NP-HCC18XH Induction Heating System Rice Cooker and Warmer, 1.8 L
What We Like:
Triple heating unit
GABA setting
Great machine to cook sprouted rice
Versatility in catering different types of rice
Timer works brilliantly
A good seal between the pot and lid
Easy to use
What We Dislike:
Warm function is not much better
Cord doesn't retract
The lid can get stuck any times
Difficult to release rice when hot
Difficult to clean
Long cooking time
Tiger JNP-1800-FL rice cooker and warmer
What We Like:
Works pretty well
Can hold rice warm up to 12 hours or more
Can consistently produce nice cooked rice
Very easy to use; there's only a single button
Easy to clean
Perfect for big families
Retractable power cord
What We Dislike:
Expensive
The liquid can form outside the steam outlet
Bottom Line
As a whole, we see that different brand of the rice cooker and warmer has different features. But it is amazing that some of them have versatile features.
So, you can choose them if you want extra features from the cooker. In fact, your decision to buy a rice cooker also depends on some others factors like the.
I think you have now a clear concept about the features you should consider at the time of purchasing a cooker machine. Besides you know now the features of some of the best products available at the market now. So, why late? Pick your suitable one!