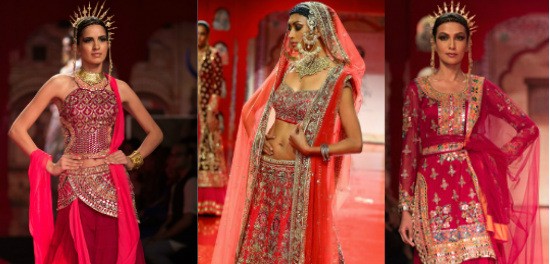 How it feels when someone looks at you with broaden eyes and wider angles of gestures? Does it feel good ? Of course !! You feel proud about yourself in being beautiful and charming among others. Beauty is the quality of being pleasing, while looking at someone or something that gives you immense pleasure, that soothes your eyes.
What can we call an "IDEAL BEAUTY" ? An "Ideal Beauty" is an element which is appreciated, or has broader features, that are highlighted, credited to an excellence in a specific society, for its beauty.
Indian beauty is very different from others, they have traditional approach, that they include in their beauty packages. Here we are sharing 4 Best outfits that can enlighten your "Indian Desi Looks", you should use these outfits to look like a "Perfect Indian girl".
1) Indian Saree : Saree is a South Asian Female Garment, that consist of wrap varying from five to nine yards in length, and two to four feet in breadth. Comes up with varieties, women love to wear it. With tradition, Saree usually wear by married girl only, but with modern approaches, it is used in a fashionable way.
2) Salwar Kameez : It is also the most traditional outfit of Indian, Salwar and Kameez both are different terms for outfits, Salwar is like trousers (loose Pajamas) that is worn on abdominal part, and Kameez is like T- Shirt that is worn on the upper part of your body.
3) Bindi [Bi -in – di] : It is a Sanskrit word that means – a Point, dot or small particle, It is the most important part of any Indian Women, In Hinduism it's part of the Suhag or lucky trousseau at marriages and is affixed to the girl's forehead on her wedding and thereafter always worn as a rule.
4) Bangles : These are something we call – "bracelets", In India we call it "bangles" usually made from metal, wood or plastic and wear it on hands. Bangles also have a very traditional value in Hinduism and it is considered inauspicious to be bare armed for a married woman.