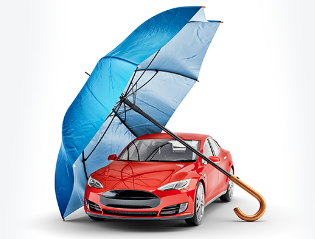 Explore the Types of coverages offered in Car Insurance
Imagine going on the most-awaited road trip of your life; you're enjoying the ride until you bump into someone's car and cause a serious accident. Your trip has now been spoilt but along with that you are also liable for damages caused to the third-party. To avoid scenarios like these, you must be well-prepared and purchase a car insurance policy beforehand.
Now, you might think what type of coverage should you purchase? To solve your problem, listed below are the different types of coverages offered in car insurance:
Third-party liability coverage
If the accident takes place due to your negligence, it becomes your responsibility to take care of any damages caused to the third-party's property or person. Third party car insurance comes in handy here. Not only this, but it also covers the death of a third-party. It is mandatory for every vehicle plying on Indian roads to purchase this cover. 
The new Supreme Court order states that every new car bought on or after September 1, 2018, must have third-party insurance cover for a tenure of 3 years compulsorily.
Comprehensive coverage
Car parts or the cost of repairing car damages are way too high to pay from your own pocket. They put your savings are at stake. What if your car too gets damaged in the accident and you're unable to pay for the repairs?
Along with the third-party damages, if the accident caused damages to your car as well, then you will be require a comprehensive coverage. It also covers own damage as this policy is extensive and offers a wide range of options. Apart from this, damages or losses caused as a result of man-made or natural calamities are taken care of. Another benefit of a purchasing a comprehensive car insurance coverage is that you can purchase add-ons to enhance your cover. The premiums for such an insurance policy will differ according to the vehicle models.
List of add-ons that can be purchased:
Roadside Assistance
This is one of the most common yet useful add-ons. In case you are stuck in the middle of nowhere because of vehicle breakdown or some other reason, you would require help. With the help of this add-on cover, you can contact your insurance provider absolutely anytime and anywhere and roadside assistance will be provided to you.
Engine Protection
This cover is helpful to protect the engine of your vehicle from any damages caused due to oil leakage, water ingression, etc. This cover is a must-have, especially for people residing in flood-prone areas.
Zero Depreciation Shield
People who do not have this particular add-on cover have to face heavy deductions on the claimed amount. You don't receive 100% of the expenses for repairing plastic components, tyre, glass, etc. The expenses are always depreciated by a certain pre-decided percentage based on what vehicle you have and the extent of the damage caused. With the Zero Depreciation add-on cover, you won't have to worry about the depreciation being applied at the time of calculating the claimed amount.
Key & Lock Replacement Cover
If you're someone who has a habit of losing your keys or misplacing them, then you must get this add-on. It helps you by paying a fixed or actual sum incurred as the cost to replace the lost vehicle key. You can even replace the lock, if needed.
Consumables Expense Cover
Your basic car insurance policy won't cover the expenses incurred to replace consumables such as oil, brake fluid, coolant, etc., due to damages caused in a car accident. This is when you will require the consumables expense cover.
Remember to only choose the add-ons that you require as these add up to your premium amount. Don't forget to compare car insurance policies & check reviewsonline before purchasing the policy. This will help you gain better understanding of your car insurance policy and what exactly you are paying for. It is always better to do your research before purchasing any product in general as well. Keep this in mind and enhance your coverage wisely.