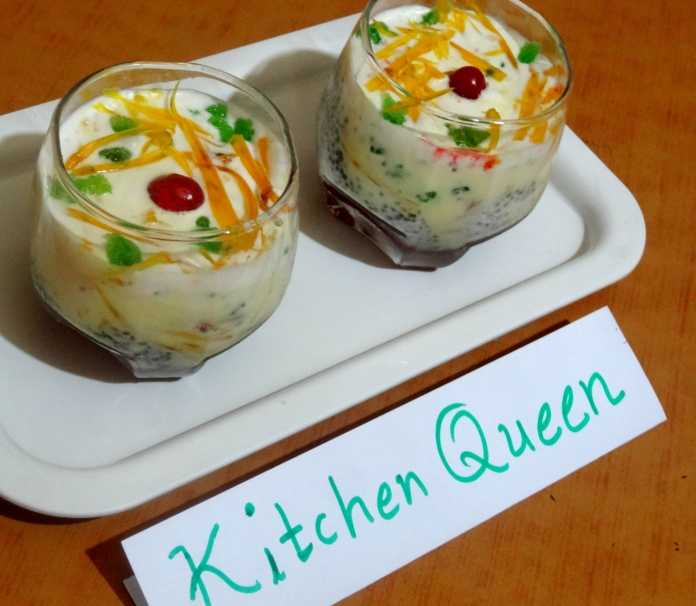 Ingredients :Â 
2 Cups Chilled Milk,
2 tbsp Rose water,
2 tbsp Sweet Basil Seeds [ Sabja ]
2 tbsp Cashew Soaked for 2 hours,
2 tbsp Almond Soaked for 2-3 hours and peeled.
4 tbsp Poppy Seeds soaked in water for 4-5 hours,
4 tbsp Natura Sugar Free
2 tablespoon Cream,
Some Jelly for toppings,
For Falooda Sev :
15 Gm China Grass [ Agar Agar ]
Some Saffron strands soaked in water,
1 Cup Water,
Method
Put Poppy Seeds, Cashew and Almond in mixer grinder and grind it to a paste by adding a little water or milk. The grinding of the ingredients should be done very well to a fine paste. Add the ground ingredients to the cold milk. Strain the milk through a cheese cloth and discard the residue. Add rose water. Mix with Sweet Basil Seeds and Sugar free.
For Falooda Sev :In sauce pan boil water with China Grass and Saffron till China Grass dissolves completely. Cool it and thick grate it.
For Serving : In a serving glass, Add the milk and Falooda sev and cream. Garnish with Jelly.
The Traditional Recipe with a Sugar Free Twist.